The Deputy Governor of Osun State, Mrs. Titi Laoye-Tomori, has revealed that  Governor Rauf Aregbesola's victory was through divine intervention.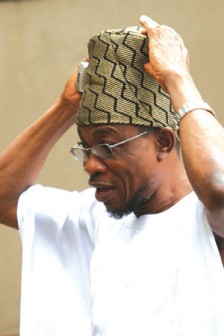 She added that the issue went beyond the normal political battle to becoming an  issue where people started fasting and praying.
The Deputy Governor, who was at Power Must Change Hands, the monthly programme of  the Mountain of Fire and Miracles Ministry, told the gathering that she had to  engage in marathon fasting and prayers with men of God from the church to ensure  their victory over the People's Democratic Party (PDP) right from when their  petition was being heard by the tribunal.
She added that despite initial setbacks occasioned by the earlier judgement, and the  other cases levelled against the governor by the police, the General Overseer of the  church, Dr. Daniel Odukoya, encouraged and told her that they would win the mandate  and she would have cause to rejoice.
Laoye-Tomori, who continued the struggle with Governor Aregbesola, said most nights  while other people were sleeping in the comfort of their rooms, she was always with  pastors from the church praying till victory finally came their way.
Mrs. Laoye-Tomori said contrary to the widespread belief that politicians are  occultic, she never patronised any witch doctor throughout the struggle, adding that  she had been in constant touch with the church.
She added that before she went into politics, she met with the General Overseer who  gave her the go-ahead.
Also, Hon. Adelabu Onibiyo, a long time friend of Governor Aregbesola and Chairman  of the Lagos State House Committee on Local Governments, told P.M.NEWS that the  victory of his friend was a miracle.
The lawmaker said: "We have seen it as a kind of spiritual warfare. It may not be  real to, you but it is real in the sense that it is above the ordinary. When you  look at events that he had to go through daily, you would realise that it was more  than a political battle.
"There were many hurdles he had to jump and with many of us who are very close to  him, we had to follow it spiritually with him because the Osun episode was something  that was not ordinary.
"Through his victory, you would see what the ordinary Nigerians have suffered. They  know who won the election and that person was denied but they couldn't defend it  other than for the issue could cost them their lives, properties and anguish.
"Even reporters would not know the truth when the jury would declare a man that  lost the election as the one who won it. It was like warfare that nobody knew how it  would end.
"Even the PDP people felt sure that it was their day. How are the mighty fallen!  Nobody would have thought that ACN had a case, but ordinary people like us,  following the trend of the case, knew that the man was robbed.
"We also remember that this man had a criminal case against him which was a  fabrication almost wanting to nail him down and pin him to something, but it was all  a miracle that the judiciary would come up again and take another look at the whole  issue. It was a big surprise and we appreciate it."
—Eromosele Ebhomele
Copyright protected by Digiprove © 2010 P.M.News
Load more