Mrs. Tomilola Olayiwola, wife of Femi Olayiwola, popularly known as Femi Best, allegedly killed by the Divisional Police Officer (DPO) at Olosan station, Mushin, Lagos State, South West Nigeria, has called on the authorities to bring her husband's killer to book.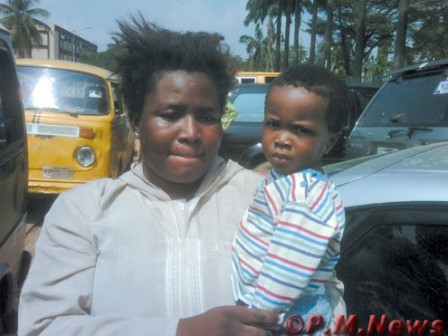 Femi Best was killed in his car in the early hours of Sunday by the DPO at the entrance of the Onipanu police station where he ran to escape from his assailant.
Speaking with P.M.NEWS at the premises of the State House of Assembly, Alausa, where hundreds of protesters gathered to register their grievances on the unjust murder of her husband, Tomilola called on the government to bring the killer to justice.
Tomilola's elder sister, Mrs. Adetutu Adebayo also repeated her sister's demand, saying that the killer of the deceased must be brought to book immediately.
Sister of the deceased, Abimbola,  who was in the vehicle with his brother when he was shot, expressed shock at the incident. "I was shocked when the DPO shot my brother and killed him instantly," she stated.
Hundreds of Mushin and Somolu residents who came to the Assembly yesterday to protest the killing gave the police a seven-day ultimatum to fish out the killer of Olayiwola and punish him appropriately. They threatened to take the laws into their hands if the culprit was not brought to book.
The protesters chanted anti-police songs and carried placards, some of which read: "Police, you are our enemy," "Police, we need freedom," "Muhammed Bala Malla, the DPO of Olosan must also die," "Bala has murdered sleep and shall sleep no more," "Second killing within two weeks," among others.
Spokesman of the protesters, Comrade Buna Olaitan Isiak, who is also the Lagos State Secretary, Committee for the Defence of Human Rights, CDHR, said Olayiwola's killing was the second in two weeks in the area.
"We are here because we don't want to take the laws into our hands.  We give the Assembly one week to do justice in this case.  We are not safe again.  We call for the immediate closure of the Onipanu Police Station," he stated.
Speaker of the House, Hon. Adeyemi Ikuforiji sympathised with the family of the deceased and assured that the Assembly would ensure that justice was done in the matter.
"We will do everything possible to ensure that justice is done on time.  The killing of any member of the society in extra-judicial manner can't be tolerated.  The issue will be debated on the floor of the House. "I call on the Commissioner of Police to move swiftly on this issue and ensure that the perpetrator is brought to book. ''
—Kazeem Ugbodaga, Eromosele Ehbomele, Paul Sanusi
Copyright protected by Digiprove © 2010 P.M.News
Load more