The road to any prison is certainly not paved with gold or silver. But the allure is  proving irresistible to James Onanefe Ibori, former governor of Nigeria's Delta  State. Still waiting to overturn a Dubai court 17 October order that he should be  extradited to Britain to face the charge of money laundering, Ibori has a lot to  worry about as British prosecutors scored another stunning victory when Bhadresh  Gohil, his London-based lawyer entered a guilty plea at the opening of a new trial  involving the theft of V-Mobile shares in Nigeria.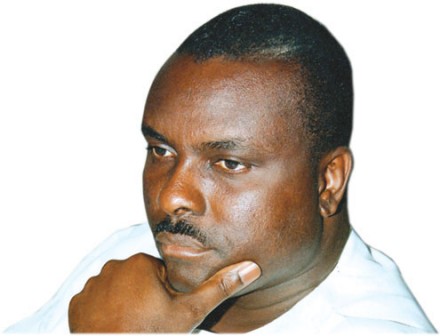 P.M.NEWS

gathered that it would be the second Ibori-related case for Gohil this  year. Two weeks ago, the Southwark Court convicted the lawyer on another  money-laundering charge, in a trial that also involved Ibori's wife, Theresa Nkoyo  Ibori. Mrs. Ibori was also convicted and is currently serving a five-year sentence  in a London prison. The court deferred Mr. Gohil's sentencing until the conclusion  of the trial that began yesterday.
A London-based legal expert told Saharareporters that, in pleading guilty to the  fresh eight-count charge, Mr. Gohil may have signalled that he could not wriggle out  of the water-tight case that the UK Crown Prosecutor has against him.
"Mr. Gohil's guilty plea is going to make it tougher, if not impossible, for Mr.  Ibori to fend off the British government's request for his extradition from Dubai to  face numerous money laundering charges in London," the expert added.
Although the trial was expected to last for three weeks, Mr. Gohil told the court  that he wanted to plead guilty. His motion for a guilty plea was accepted and  recorded.
The legal expert told us that Mr. Bhadresh Gohil joins the rare company of the few  UK lawyers to be convicted for money laundering.
Southwark Crown Court judge, Christopher Hardy, who once referred to Gohil as the  "predicate offender" alongside Mr. Ibori – who is currently appealing a ruling for  his extradition from Dubai to London – did not say much at the court session.
In court yesterday, two other accused, Lambertus De Boer and Daniel McCann, pleaded  not guilty. British prosecutors accused Gohil of participating in the laundering of  funds realized from the sale of V-Mobile shares owned by the governments of Delta  and Akwa Ibom.
Other Nigerian officials accused in the scam are currently at large. They include  Mr. Ibori, former Governor Victor Obong Attah of Akwa Ibom, David Edevbie, a former  Principal Secretary to Umaru Yar'Adua, Love Ojakovo, a former commissioner of  finance to Ibori and Henry Imashekka, a business associate of Ibori.
The accused face 14 counts of forgery and money laundering in relation to the sale  of V-Mobile telecoms shares by Akwa Ibom and Delta States. The accused men  reportedly used front companies to defraud the Nigerian states of a total of $37.8  million realized from the sale of the shares.
Prosecutors allege that a company named "Africa Development Finance Company" was the  major conduit used to steal the funds.
In an instance cited in the case summary, prosecutors state that an $11 million loan  was purportedly granted to an aviation company that assisted Mr. Ibori in purchasing  a jet from Canada; $10 million was given to "Ascot Offshore Nigeria Limited," the  company that Ibori used to purchase Wilbros; and another $790,000 was granted to  another fake firm "Africa Development Co." and an offshore nominee firm.
The charges of forgery concern Mr. De Boer and McCann. They are accused of violating  the Forgery and Counterfeiting Act of the UK by creating fake documents between  Delta State and Africa Finance Ltd., and also between Delta and African Development  Company. They are also accused of creating a false account that used both men's  names as beneficiaries as part of a scheme to hide the fraudulent nature of the  transactions.
Copyright protected by Digiprove © 2010 P.M.News
Load more