He may be shackled, but he is not silenced. From his prison cell in South Africa,  Nigeria's militant leader, Henry Okah, is still promising bombs and gun fire to the  Nigerian military authorities.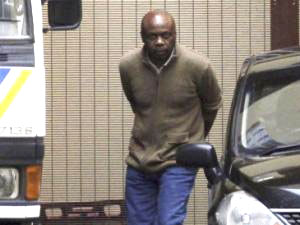 Okah, who is on trial in South Africa on terrorism charges, said there's no military  solution to the rebellion under way in the oil-rich Niger Delta.
"There are thousands of people who are willing to fight and they'll continue to  fight," Okah said in an interview with Bloomberg on December 5 after he called  Bloomberg from prison in Johannesburg.
"If I can have access to weapons, I'll give thousands of  weapons to people in the  delta to defend their lives and their land."
His comments came as fighters of the Niger Delta Liberation Front ruptured a  pipeline belonging to the state-owned oil company on Dec. 5, the group said in an  e-mailed statement yesterday. MEND, which claimed responsibility for recent attacks,  said in an e-mail last week it was planning new assaults on the oil industry.
Okah, 45, was arrested in Johannesburg after two car bombs exploded in Abuja, on  October 1, as President Goodluck Jonathan was marking Nigeria's 50th independence  anniversary. The blasts were claimed by the Movement for the Emancipation of the  Niger Delta, the main armed group in the oil-producing region that the government  says Okah is leading.
Attacks in the delta by armed groups including MEND cut more than 28 percent of  the  country's oil output between 2006 and 2009. MEND wants the region to have exclusive  control of its resources, while paying tax to the central government.
While he denied being the leader of MEND, Okah said he has influence among various  armed groups, who, he said, "call me master."
Nigeria is Africa's biggest oil producer and the fifth- largest source of U.S. oil  imports. Hague-based Royal Dutch Shell Plc, Irving, Texas-based Exxon Mobil Corp.,  Chevron Corp. of San Ramon, California, Total SA and Eni SpA run joint ventures with  the state-owned Nigerian National Petroleum Corp. that pump more than 90 percent of  the West African nation's oil.
Angolan authorities arrested Okah, a resident in South Africa, in 2007 on suspicion  of arms trafficking. He was later deported to Nigeria, where he was put on trial on  62 charges, including capital offenses of treason and terrorism.
Okah was freed under an amnesty plan initiated in August last year by former  President Umaru Yar'Adua and returned to South Africa. Jonathan succeeded Yar'Adua  after he died on May 5.
Even if rebel commanders surrender under the terms of the amnesty, others will take  their place, Okah said. "It's like gang warfare: When you leave your turf, other  people take over," he said.
The Nigerian military has stepped up raids against militant camps in the past month  in response to a renewed surge in attacks by the rebels. The increased violence  followed a period of relative calm when thousands of fighters disarmed under the  amnesty.
Troops raided a militant camp south of the oil-industry hub of Port Harcourt last  month, freeing foreign hostages, including an American, two French nationals, two  Indonesians and a Canadian, seized by MEND fighters. Camps operated by another  militant group, the Niger Delta Liberation Force, or NDLF, have come under air and  ground attack since last week.
"The military should have a better way of dealing with the individuals they're  seeking," Nnimmo Bassey, the Executive Director of Environmental Rights Action, a  Nigerian non- governmental organization, and chairman of Friends of the Earth.
"Entire communities are being targeted and punished. When an individual is wanted, a  whole community shouldn't be punished."
Military spokesman, Colonel Timothy Antigha, denied civilians were being targeted,  saying in a December 2 phone interview that "a civilian has no business in a camp  where there are machine guns, anti-aircraft weapons and dynamite."
While both Okah and Jonathan are ethnic Ijaws, the dominant ethnic group in the  region, Okah said the Nigerian president lacks the vision to manage the grievances  of different parts of Africa's most populous nation.
"The Niger delta is just one part of the country; everybody in Nigeria has  grievances," he said. "Can Jonathan manage all these grievances? The answer is no."
Presidential spokesman, Ima Niboro, dismissed Okah's comments yesterday in a  telephone interview from Abuja.
"Okah is talking nonsense, all he's looking for is an avenue to sell his weapons,"  he said. "Even as vice president, the president was the one driving the amnesty  process under Yar'Adua."
Copyright protected by Digiprove © 2010 P.M.News
Load more