Over 500 supporters of the Action Congress of Nigeria, ACN, in Lagos State, South  West Nigeria yesterday stormed the party's secretariat on Acme Road, Ogba to protest  the alleged manipulation of the party's ward and local government congresses.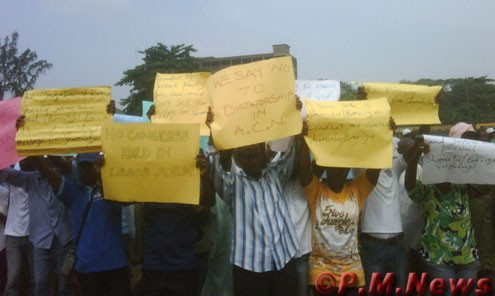 The supporters, drawn from the various local governments and local council  development areas of the state, carried placards and demanded that the ward and LG  congresses, which had already been held, should be cancelled to give room for fresh  ones.
Some of the placards carried by the protesters read: No Imposition of Fictitious  Names, Give us Fundamental Human Rights and Not Animal Rights; Stop all Undemocratic  Processes in Lagos State; ACN, Democracy Must Rule; Stop Acts of Political  Dictatorship and We want Democracy, Not Autocracy.
Spokesperson of the protesters, Engr. Adebayo Akande said "we don't want  continuation of imposition. We want open primaries.  Two weeks ago, we were given AC  cards and not ACN cards. At the congresses, names of executive members were smuggled  out and new names smuggled in.
"We don't want to resort to self-help. In Lagos State, things are not what they are  supposed to be. We want the congresses held so far to remain null and void.  The  congresses were secretly held. We want transparent congresses."
Akande stated that the congresses held in the 377 wards were manipulated to suit  certain persons, and that in most wards, congresses were not held, but manipulated  for unscrupulous purposes while some people were schemed out.
Related News
"Why should names of current executive members be removed in order to satisfy  certain persons," he queried.
The protesters demanded that the ACN card be regularized in Lagos State so that many  people would not be deprived of their rights to vote at congresses, and that all  congresses already held be nullified.
"We want fresh congresses to be held across the state and we also want open  primaries to be held and such primaries must be certified by the National Executive  Council of the party," Akande stated.
—Kazeem Ugbodaga
Copyright protected by Digiprove © 2010 P.M.News