There seems to be no respite for Prophet T.B. Joshua  of The Synagogue Church of All  Nations, as another person  was caught inside the church on Sunday. He had come with  a loaded gun which he hid before he joined the congregation.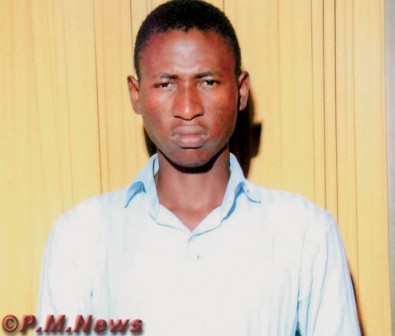 His true intention could not be ascertained as the man claimed after his arrest that  he had come to seek repentance.
Before the latest incident, a knife-wielding man was arrested among the congregation  two Sundays ago.
P.M.NEWS gathered that the arrest was made  while T. B. Joshua was ministering in  the church. In the course of his ministration, he stated that someone with a gun was  inside the church. As the pastor moved towards the suspect, the suspect  confessed  that he was the one that came with the gun and he took Joshua and security personnel  to where he kept the weapon.
The suspect, it was learnt, hid the gun somewhere in the church and was going to  retrieve it when he was accosted by Prophet Joshua who suspected that he was up to  something in the light of the botched knife incident.

P.M.NEWS gathered that since the knife incident, Joshua had beefed up security  around the church to ward off  intruders.
The new  suspect, Sunday Akpan, said he actually came to the church because he was  tired of robbing people.
Akpan said he joined a robbery gang  when one of his friends, who is now dead,   initiated him into the business and since then, he has been involved in several  operations.
On why he joined the robbery gang, he said it was because of bad friends and that he  was from a poor family and his parents are old, so he needed to take care of them  and his wife and child. He expressed regrets for being a robber and said that he  wanted to change.
"I have been involved in several robbery operations, but for all the years, there is  nothing to show for it. I cannot boast of a roof where I can sleep," he lamented.
—Cyriacus Izuekwe
Copyright protected by Digiprove © 2010 P.M.News
Load more