The name 2Slim may not really ring a bell in the home video sector, for those who  are very conversant with Christian stage acting, he is surely a talent to behold.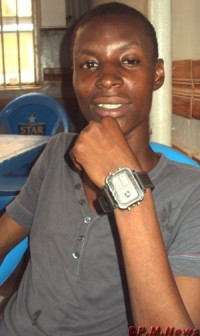 Born Dayo Oluwasesin, 2Slim has already carved a niche for himself both as a stage  actor and stand-up comedian. But right now, his ambition is to break into the  mainstream of the make-believe world, Nollywood.
2Slim, who is also known as Fela, owing to the fact that he has a similar body frame  with the late Afrobeat legend, is of the  opinion that more professionals are needed  in the movie industry, particularly in the Yoruba genre.
According to 2Slim, "I think the industry needs someone like me. With my wealth of  experience as a stage actor, I'm very optimistic about the change that I will bring  to the industry. I have patiently waited to take this step and I think it is now or  never. That doesn't mean I'm here to make unnecessary noise or fame. I just want to  make a difference and move the industry forward."
NollywoodReel gathered that as a stand-up comedian, he has anchored a couple of  celebrity events, yet, he is not relenting in his oars.
Copyright protected by Digiprove © 2010 P.M.News
Load more