Governor Babatunde Fashola of Lagos State says he has no apologies for adopting a higher tax regime, adding that the promise by some politicians for a lower tax regime will translate to lower resources for government and undermine its ability to tackle developmental challenges.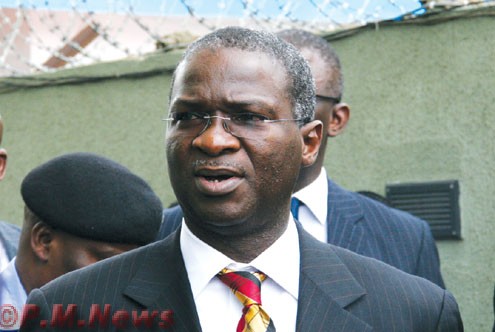 The governor said at the 4th Lagos State Taxation Stakeholders' Conference held at the Civic Centre, Victoria Island, Lagos State, southwest Nigeria, that the taxes paid in Lagos were the same in the entire federation.
The governor lashed out at his political opponents who were promising the people that they could achieve development without enforcing the collection of taxes, saying that they are deceivers.
"I think it is quite unnecessary to warn you to beware of politicians who are coming to promise you that they can achieve development without enforcing the collection of taxes.
"We all know that this is the path of deception that leads to nowhere. Sweet as it may sound, the promise of lower taxes must translate to lower resoures for government and eventually undermine government's ability to tackle even the basic developmental challenges that daily confront us in this great mega city of ours," he stated.
"We must be similarly wary of some attempts to slow down our tax drive by giving the impression that tax rates in Lagos are already higher than they are elsewhere.
"Rates of personal income tax, stamp duty and capital gas tax which together affect the highest number of people in Lagos State are all fixed by federal law and are applicable throughout the federation."
According to him, Lagos does not have a separate set of higher rates and the state government only ensures that the rules were applied correctly. "All persons who should be paying are made to pay and all monies paid are remitted completely into government accounts. For this, I have no apologies," he added.
He stated that the major way to achieve equity in a tax system is to ensure that the burden was evenly spread, rather than government concentrating only on the easy targets.
"Unless we ensure that every kobo is accounted for and remitted to government, there is no way that you, the tax payers, will get a commensurate return for your tax payment," the governor said.
He appealed to Lagosians not to pay their hard earned money to touts and fraudsters, urging them to arm themselves with information. "Do not fall prey to arrangements and negotiations which are designed to cheat government out of its legitimate revenue."
Fashola lamented that in the past, several tax officers in the state extorted money from taxpayers and carry out unscrupulous activities.
He stated that several taxpayers have been complaining about unscrupulous practices by tax officers which led government to take drastic action that paid off in the end.
"By paying attention to and investigating your complaints, we found that the major problems of taxation in Lagos State were those of inadequate information flow, giving room for illegal levies, fake tax collectors and other crooked practices.
"We also found that even with levies that could be genuinely supported by legislation, some unscrupulous revenue officers were in the habit of including unauthorized heads of charge, varying the amounts payable to facilitate unlawful negotiations and extorting gratification from taxpayers," Fashola stated.
"We eventually came to the conclusion that stricter controls were required, hence my promise to you at the first taxation stakeholders' conference that an appropriate remedial bill would be presented to the Lagos State House of Assembly. That promise has been brought to fruition this year," he added.
—Kazeem Ugbodaga
Copyright protected by Digiprove © 2010 P.M.News
Load more