As the 2011 general elections approach, the Chairman of the Action Congress of  Nigeria (ACN) in Lagos State, Otunba Henry Ajomale, has denied that politicians have  started submitting their letters of intent to contest the governorship seat in the  state to the party.
According to Ajomale, the space for the governorship position is still blank as far  as ACN in Lagos is concerned.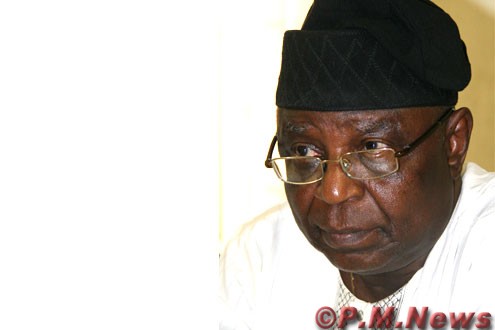 He gave this reaction while responding to questions on whether some governorship  aspirants have sent their letters of intent to the party secretariat in the state.
Among those reported to have sent their letters of intent to contest the  governorship position in the State include the Speaker of the Lagos State House of  Assembly, Hon. Adeyemi Ikuforiji, the State Commissioner for the Environment, Muiz  Banire, his counterpart in the Ministry of Science and Technology, Ganiu Hamzat and  Tunji Bello, Managing Director, Lagos State Signage and Advertising Agency (LASAA).
According to Ajomale, "Nobody has sent any letter of intent to contest governorship  in Lagos State. The space for governorship is still blank.
"I am confirming to you as the Chairman of ACN in Lagos that nobody has signified  intention to contest for governor in the State. If there is, I should know.
Continuing, he said: "Those telling you that the Speaker has obtained form to  contest for governorship are bloody liars. There is nothing like that.
"The only person that has taken form of intent or signified his intention to contest  for the governorship is not even a member of the party. Those who have submitted  letters of intent are aspirants for senatorial and House of Representatives and  others. That is what we have now."
Lagosians are, however, waiting to see those who will submit their letters of  intent to contest the position against the incumbent governor, Babatunde Fashola,  whose posters and billboards for re-election have taken over the state.
Though Fashola has not officially declare his intention to go for a second term,  many of his supporters have been campaigning for his re-election.
As part of his strategy to get the people's attention, he has also taken advantage  of the Bus Rapid Transit (BRT) scheme, as most of the buses now have his posters and  other materials asking Lagosians to re-elect him.
The governor has also opened a campaign office within the state while a campaign  team is being put in place.
However, several times, the Speaker denied claims that he was running for the  governorship of the state.
Ikuforiji, while reacting to the claims yesterday, described himself as a politician  and would continue with his political aspirations.  "I will definitely contest for a  political position which I don't yet know, because the power lies in my party," he  stated.
—Eromosele Ebhomele & Jamiu Yisa
Load more