International R 'n' B superstar, Robert Sylvester Kelly popularly known as R. Kelly,  has been named the biggest hip hop artiste, from a list of 50 international acts.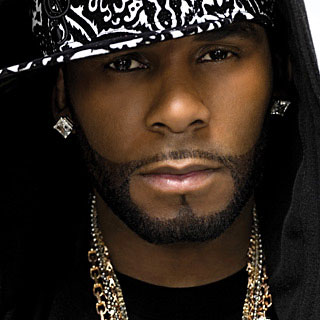 The artiste, who is also the international headliner for this year's edition of Star  Mega Jam in Nigeria, was named by Billboard, a weekly American magazine devoted to  the music industry, as the biggest hip hop artiste to have emerged in the past 25  years.
Billboard also maintains several internationally recognised music charts that track  the most popular songs and albums in various categories on weekly basis.
The list of the top 50 R&B/hip hop artistes of the last 25 years was based on a  compilation of weekly Hot R&B/Hip Hop Songs and Top R&B/Hip Hop Albums from 5  January 1985 to 6 November, 2010.
To win this award, R. Kelly edged out stars like Mary J. Blige, Whitney  Houston, Mariah Carey, Usher, Luther Vandross and Jay-Z, among others.
R. Kelly attained global acclaim in 1992 and has since then amassed 35 top ten hits  on the US R&B/Hip Hop chart and a total of 84 charting singles, 11 of which have  reached number one. These include hits such as Bump n Grind and I'm Your Angel, a  duet with Celine Dion. He has sold more than 34 million records worldwide.
Meanwhile, Jacco van der Linden, the Marketing Director of Nigerian Breweries Plc,  has applauded R. Kelly on the achievement.
Speaking at the presentation of prizes to the winners of the seventh and final  edition of the Star Independence Game Show for 2010, van der Linden lauded the  international R&B superstar for his consistency in churning out hit tracks in the  highly competitive global music industry, a feat which has thus earned him the  honour of being named the best hip hop artiste in the past 25 years.
"Even though R. Kelly was recently named the biggest hip hop artiste months after we  officially signed the contract to bring him to Nigeria for Star Mega Jam and weeks  after we formally unveiled him as the star act, his recent accomplishment goes a  long way to confirm Star's commitment in ensuring that only the very best is good  enough to feature in Star Mega Jam," noted van der Linden, adding that  Nigerians should expect nothing short of a world class performance from R. Kelly,  who is expected to arrive the shores of Nigeria on Wednesday, 15 December.
His arrival two days before the event, would afford him opportunity to have a feel  of the Nigerian environment.
"R. Kelly has promised his numerous fans a stellar performance. I therefore urge his  fans to troop out to the venues of this year's edition of Star Mega Jam to witness  this once-in-a-lifetime opportunity," Tony Agenmonmen, Marketing Manager, Lager, NB  Plc, stated.
Copyright protected by Digiprove © 2010 P.M.News
Load more