Peter, a member of  the multiple award-winning hip hop group,  P-square and the  twin brother  of Paul,  spoke to Bayo Adetu about their life and other issues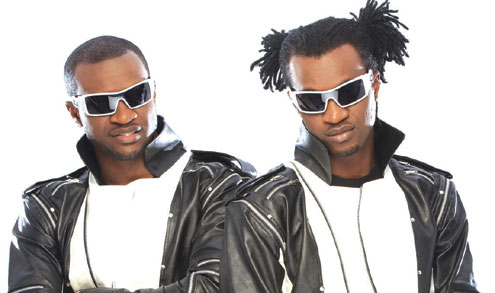 You recently celebrated your 30th birthday, why did you decide to throw a lavish  party?
Well, the truth is that we were not trying to impress anybody by throwing the party,  neither did we try to let people know how rich we are, but it was something we  needed to do and we did it. It was more of a thanksgiving party because God has  really helped us. Last year, we celebrated our birthday with children in the  orphanage. We even painted their walls with our own hands and all that, but this  year, we decided to celebrate with our colleagues and fans who have been supporting  us right from the onset. If you look at who we are today, you will agree with me  that we have every reason to be grateful to God.
Apart from the number, what was the significance of the birthday to you?
That we are alive to record these achievements. Many have died, but we thank God for  keeping us alive. It is also important because we have been able to  achieve what is  beyond our age. What we thought of achieving in 50 years, God made it possible  within five years, so we are very happy.
P-square is one of the most successful artistes in Africa at the moment, how do you  feel about this?
We feel happy and want to say that this year has been one of the best for us. It is  not as if we did much, but  hard work has paid off for us. We pray that God will  continue to protect us so that we won't start to misbehave and misuse the  opportunity.
What do you enjoy most about stardom?
We are really enjoying stardom in the sense that anywhere we go, we get noticed.  When we go out, most of the things we get are free. For instance, when we go to a  bar to drink, we don't always pay. Not that we don't have money, but they just don't  collect money from us. At times, when we are going somewhere, you will see people  blocking us and saying 'your boys are here.' I mean the street hawkers and for the  sake of love, I don't want them to damage my car. We have to sort them out before we  go. Basically, stardom is a good thing but one has to be careful. We enjoy it  because the advantages are more than the disadvantages.
You didn't talk about pressure from female fans?
There are more female fans around than male and as celebrities, it is a normal  thing. We try to do things the right way despite the fact that our female fans are  always coming around. But at times, people from outside see it differently. Some of  them say all sorts of things like those guys sleep with the ladies and all that.  Just as a woman wants her privacy protected,. P-square also wants their privacy and  dignity protected. We don't want to mess up because if anything affects us, it may  affect a lot of people and being public figure, we watch what we do.
So can you remember the craziest thing any of them did to P-square before?
There are lots of that, but let me tell you, the one that is recent. After  performing in one of our tours outside Nigeria, we were in the hotel relaxing when  the telephone rang. After picking the call, the security guard told us that some  girls wanted to see us outside. We accepted to  greet them and one of them held me  and didn't allow  me to go. I felt very bad because my body guard hit her, but I  later sacked him because I didn't want him to be treating our fans like that. I  consoled her and we all went to the bar with her friends to drink. I later  discovered that she wanted a relationship but I told her it was not possible. The  craziest thing happened the next time we visited the country. On our arrival at the  airport, a lot of people started giving us flowers and all that. All of a sudden,  this girl appeared from the crowd and started kissing me in front of cameramen who  had come to cover our arrival. Throughout my stay there, she was just misbehaving,  but you know, there are some things you can't push away.
Perhaps you need to get married for all these to stop?
Even if we are married, it  doesn't stop that. A lot of married ladies chase married  men and vice versa. Most of our colleagues who are married witness that everyday. We  will definitely get married at the appropriate time. We don't want to get married  today and divorce tomorrow. Even if marriage comes in the next 10 years, we don't  mind. We don't want marriage to change our attitude towards people, particularly our  fans.
Should we expect you to marry the mother of your child, Lola Omotayo?
She is a nice person, so there is nothing wrong if I decide to settle down with her.  But like I said earlier, marriage is not what you can rush into. If God wants her to  be my wife, fine and if it is otherwise, there is nothing I can do.
What does friendship mean to you?
If there are friends and somebody is successful among them, he should not see  himself as a leader, but an example to the rest. Friendship is all about supporting  one another.
Since you guys relocated to Lagos about six years ago, your father only came to  visit you about two months ago?
Yes, he was so speechless when he came and saw what we have achieved. He didn't  believe that his boys that left Jos a few years back could have achieved what he saw  here. Although our house in Jos is as big as the one in Omole, he could not  comprehend the fact that we have also achieved so much in Lagos. Back then in Jos,  he didn't want us to play music, but when we insisted, he stopped paying our school  fees. But our mother was solidly behind us. She would sneak us out to go and perform  at shows then and on our return the following morning, we will stylishly throw  stones on her window so that she could open the door for us. But one day, we  mistakenly threw a stone at our father's window and it almost caused a big problem  in the family. But above all, we thank God for His grace in bringing us this far. We  never expected to achieve these things within such a short period. We actually  disobeyed our father to become musicians and that is why, today, we see ourselves  competing with our parents, not our colleagues. This is because we want to prove to  our parents that we knew what we were doing and the step we took back then is  actually paying off. I can say that it was a big risk we took, but I will not advise  anybody to do such.
Copyright protected by Digiprove © 2010 P.M.News
Load more