A desperate attempt by the Independent National Election Commission, INEC, to get a  Federal High Court sitting in Abuja to set aside an order it made on the 3rd of  December restraining the electoral umpire from going ahead with preparations with  regards to the procurement of the Direct Data Capture machine, collapsed on Monday  as the trial judge, Justice Ibrahim Auta refused to vacate the order.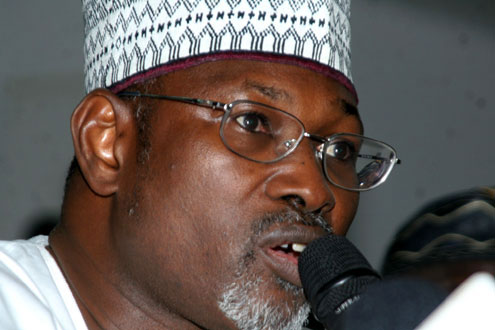 The electoral body represented by Mr. A. B Mahmud, a senior advocate of Nigeria, had  appealed to the court to vacate the restraining order to enable INEC continue with  the process of the acquisition of the machines with which it plans to embark on the  voter registration exercise scheduled for second week of January 2011.
In an application moved before the court, Mr. Mahmud contended that the restraining  order issued against INEC is too broad, vague, uncertain, incomprehensible and  incapable of enforcement and argued that the award of contract for the DDC machines  is a completed act for which no restraining order can reverse.
The senior advocate further contended that the restraining order issued against his  clients was not hinged on any alleged legal right nor does it aims at protecting any  right. While contending that the order seeks primarily to disrupt the forthcoming  elections, Mr. Mahmud conceded that any claim based on infringement of Patents or  Copyrights are commercial disputes and can be adequately compensated by the award of  damages if established and called on the court to set aside its order.
The Attorney General of the Federation and Minister of Justice represented by Carol  Ajie joined in the attempt to get the court to vacate the order. The lawyer  contended that the restraining order was made against a completed act as the DDC  machines were already being expected to arrive at the INEC Headquarters any time  soon. Ms. Ajie took the call for the setting aside of the order to a new dimension  when she alleged that the patent right which the plaintiff, Beddings Nigeria  Limited, claims to hold over the DDC machine is a ruse, a deception.
In his response to these calls to the court to vacate the order, counsel  representing Beddings Nigeria Limited, Chief Asam Asam, also a senior advocate of  Nigeria prevailed on the court not to vacate or set aside the restraining order  against INEC which he accused on infringing on his client's Patent Rights. He argued  that the essence of the grant of an order of injunction is to protect the existing  legal rights of a person from unlawful invasion by another.
He frowned at INEC's calculated attempt to infringe on the legal rights of a Nigeria  citizen and urged the court to allow the restraining order to remain so as to  protect the res, the subject matter of the suit. He also called on the court to  order for an expedited hearing of the substantive suit.
Chief Asam also pointed out to the court that the defendants have not shown that any  grounds as enunciated by the Supreme Court for a court to set aside its order exists  in this case and urged the court to refuse the defendants application since the  order i
—Nnamdi Felix / Abuja
Copyright protected by Digiprove © 2010 P.M.News
Load more