The Dubai Court of Cassation this morning ordered the extradition of James Onanefe  Ibori, former governor of the Nigeria's Delta state, to the United Kingdom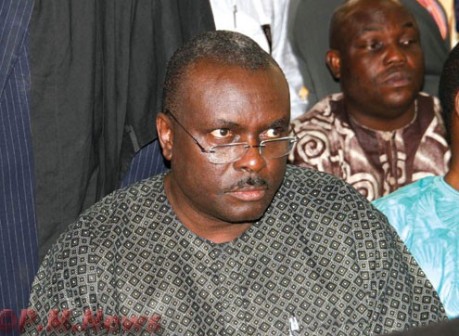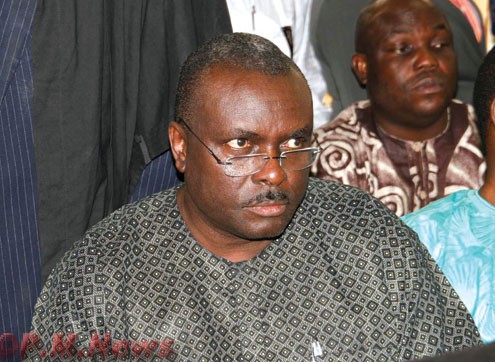 Mr  Ibori, who ruled the oil rich state for eight years, was detained after an  Interpol arrest request was filed by the Metropolitan Police in London, asking for  his extradition.
In the UK, Ibori will be facing money laundering and fraud charges.
His collaborators, his lawyer and first wife, Nkoyo have already been convicted over  the crimes and jailed.
Ibori was declared a wanted man by the Economic and Financial Crimes Commission,  when he escaped  from Nigeria to Dubai, after playing some deadly hide and seek with  agents of the commission, especially his hometown of Oghara.
The former governor  is accused of stealing funds worth $290m (£196m) by the EFCC.
Ibori has for years denied corruption allegations against him in Nigeria and is also  wanted by the Metropolitan police in the UK for money laundering charges.
In 2007, a UK court froze assets  belonging to him worth £21m, though he already  escaped from the UK when his assets were seized.
Ibori was first arrested and arraigned by the EFCC in Nigeria in December 2007.
Two years later, a court in Asaba cleared him of 170 charges of corruption, saying  there was no clear evidence to convict him.
On arrival in Dubai, he walked straight into the trap set by the Metroplitan Police  in the UK which began a protracted extradition proceedings against him , after his  initial arrest in a Dubai hotel on 12 May.
On 17 October, the Dubai court of First Instance ruled that  that he should be   extradited to Britain to face the charge of money laundering. But Ibori appealed.  Judgement against him was delivered today.
His extradition will trigger off his trial on money laundering and fraud charges.  And he has a lot to worry about as almost all his associates and his lawyer have  been convicted. The latest was  Bhadresh  Gohil, his London-based lawyer, who  entered a  guilty plea at the opening of a new trial  involving the theft of  V-Mobile shares in Nigeria.It was the  second Ibori-related case for Gohil this   year. Three  weeks ago, the Southwark Court convicted the lawyer on another   money-laundering charge, in a trial that also involved Ibori's wife, Theresa Nkoyo   Ibori.
Mrs. Ibori was also convicted on 22 November by a Southwark Crown Court and is  currently serving a five-year sentence  in a London prison. The court deferred Mr.  Gohil's sentencing until the conclusion  of the trial.
In a previous trial, a UK court also jailed Ibori's sister, Christine Ibori-Ibie,  and his mistress, Udoamaka Okoronkwo-Onuigbo, for corruption charges.
A London-based legal expert had said that, in pleading guilty to the fresh  eight-count charge, Mr. Gohil may have signalled that he could not wriggle out  of  the water-tight case that the UK Crown Prosecutor has against him and Ibori.
"Mr. Gohil's guilty plea is going to make it tougher, if not impossible, for Mr.  Ibori to fend off the British government's request for his extradition from Dubai to   face numerous money laundering charges in London," the expert had added.
Although the trial was expected to last for three weeks, Mr. Gohil told the court   that he wanted to plead guilty. His motion for a guilty plea was accepted and   recorded.
Mr. Bhadresh Gohil joins the rare company of the few  UK lawyers to be convicted for  money laundering. Southwark Crown Court judge, Christopher Hardy, who once referred  to Gohil as the  "predicate offender" alongside Mr. Ibori. Charged with Gohil were   Lambertus De Boer and Daniel McCann. They  pleaded  not guilty. British prosecutors  accused Gohil of participating in the laundering of  funds realized from the sale of  V-Mobile shares owned by the governments of Delta  and Akwa Ibom. Other Nigerian  officials accused in the scam are currently at large. They include  Mr. Ibori,  former Governor Victor Obong Attah of Akwa Ibom, David Edevbie, a former  Principal  Secretary to Umaru Yar'Adua, Love Ojakovo, a former commissioner of  finance to  Ibori and Henry Imashekka, a business associate of Ibori.
The accused face 14 counts of forgery and money laundering in relation to the sale   of V-Mobile telecoms shares by Akwa Ibom and Delta States. The accused men  reportedly used front companies to defraud the Nigerian states of a total of $37.8   million realized from the sale of the shares.
Prosecutors allege that a company named "Africa Development Finance Company" was the   major conduit used to steal the funds. In an instance cited in the case summary,  prosecutors state that an $11 million loan  was purportedly granted to an aviation  company that assisted Mr. Ibori in purchasing  a jet from Canada; $10 million was  given to "Ascot Offshore Nigeria Limited," the  company that Ibori used to purchase  Wilbros; and another $790,000 was granted to  another fake firm "Africa Development  Co." and an offshore nominee firm.
The charges of forgery concern Mr. De Boer and McCann. They are accused of violating   the Forgery and Counterfeiting Act of the UK by creating fake documents between   Delta State and Africa Finance Ltd., and also between Delta and African Development   Company. They are also accused of creating a false account that used both men's   names as beneficiaries as part of a scheme to hide the fraudulent nature of  thetransactions.
During his term and political career, between 1999 and 2007,  Mr Ibori was one of  the most vocal advocates for resource nationalisation in Nigeria. His critics now  believed that he used the campaign as a façade to personally enrich himself with the  state resources.
Copyright protected by Digiprove © 2010 P.M.News
Load more