Tragedy struck at Ebute-Metta, Lagos State, Southwest Nigeria at the weekend when  two members of the Neighbourhood Watch of Nigeria attached to the Lagos Mainland  Local Government Area, were killed while on duty.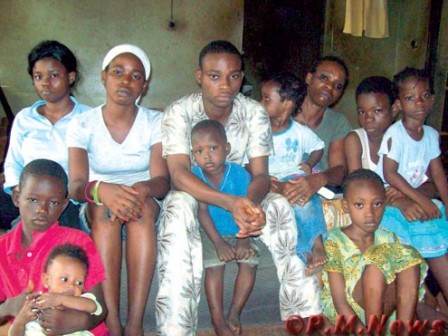 Those killed by the unidentified gunmen were Chief Ade Rotimi Adebowale Fakoya, the  commander of the group in Ebute Metta and Comrade Fatai Hussain.
P.M.NEWS gathered that the deceased were on patrol when the assailants confronted  them and shot them to death at the Ibadan/Osholake junction, Ebute-Metta.
Comrade Olusegun Adebojo, a member of the Neighbourhood Watch, who was at scene of  the incident, described their killing as assassination.
According to him, "the commander was on patrol. He was checking other members on  duty. When he got to my house, I told him to wait for me because I was fetching  water, but as I was coming back, I saw a car and three persons with guns came down  and said 'this is the man.' They fired him and the other person that was with him.
"The men pursued me but I hid myself in an uncompleted building. After they had  killed them, one of them said, 'sebi you wan be commander, yeye man, go and be the  commander now.'
"After they had gone, I came out of the building and called other members to come  and see what happened."
Pastor Gabriel Ekundayo, deputy commander of the group also described the gunmen as  hired assassins.
"What happened is a clear case of assassination. From what we saw at the scene of  the incident, it shows that the men were assassinated and we want the government and  the police to investigate it and bring those behind it to book," Ekundayo stated.
When P.M.NEWS visited Denton Police Station, Mr. Mohammed Sanni, the Divisional  Police Officer, DPO, confirmed the story but refused to comment further. He referred  our reporter to the Police Public Relations Officer, Mr. Frank Mbah, for more  details.
At the late Fakoya's house on 28, Osholake Street, Ebute-Metta, his wives, Adenike  and Oluwabunmi, with their ten children were seen wearing mournful looks.
The two wives called on the government to bring the killers of their husband to  book. They also called on the government to come to their assistance by taking care  of their welfare.
Deji Fakoya, 21, the first child of the late commander, described his father as an  easy going man who loved everybody.
Deji, a job applicant, also appealed to the Lagos State government to assist his  family.
A resident of the area called on the government to demolish the shanties at the  Ebute area of the community to forestall a future occurence.

P.M.NEWS also gathered that the corpse of the men have been deposited at the Isolo  General Hospital mortuary.

—Paul Sanusi
Copyright protected by Digiprove © 2010 P.M.News
Load more