Tragedy struck at Alaba area in Amukoko, Lagos, Southwest Nigeria yesterday when a  21-year old mechanic, Ismaila Sanni was shot dead by policemen while watching the  explosive premier league match between  Arsenal and Manchester United at a viewing  centre in the area.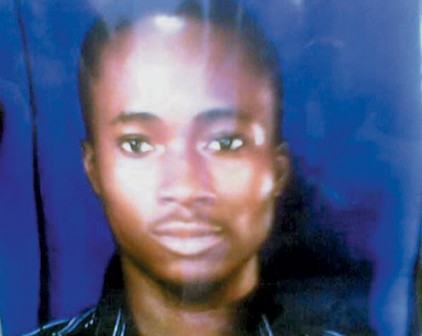 The police did not only kill Ismaila, two other fans whose names were given as  Biodun and Sanjo were also injured by the bullets fired by the police.

P.M.NEWS gathered that the men were shot at a viewing centre covered with a canopy.  The police, it was learnt, were in the area to dislodge some suspected criminals at  their hideout when the bullets they fired hit the deceased and his friends who were  watching the match.
According to a football fan, Seun Alabi who was also at the viewing centre before  the incident occurred, the police came to the area when the match was going on and  started firing indiscriminately at a black spot in the area. The team of policemen  was reportedly led by one Akeem. "The next thing we heard was a gunshot that left  Ismaila dead and two others injured," he stated.
The death of the youth threw the area into pandemonium as residents ran  helter-skelter to escape being hit by stray bullets.
Youths in the area later trooped out in their hundreds to protest the killing of the  Manchester United fan.
When P.M.NEWS visited the father of the victim, Ramoni Sanni at his residence on 30,  Awokpe Street, Alaba, Amukoko, Lagos, he expressed shock at the death of Ismaila who  was his last child.
He accused the police of killing his son in cold blood and called on the authorities  to bring the killers to book. He also described the late Ismaila as a peaceful man  who loved football.
At the Pako Police Station, Okokomaiko, where the murder was reported, the DPOÂ  refused to comment, saying that he has not been briefed.
He advised that we should go to the Police Public Relations Officer for any  information on the incident. Telephone calls to the Lagos police command spokesman,  Mr. Frank Mbah, were not immediately answered.

—Cyriacus Izuekwe/Dedeigbo Ayodeji
Copyright protected by Digiprove © 2010 P.M.News
Load more