Coach Mark Balogun, the Tournament Coordinator of ipNX sponsored Rookies Basketball  Tournament has said that this year's edition of the youth championship will be a  memorable one.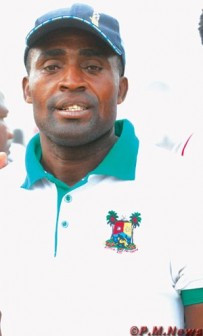 Balogun, who tutored Team Lagos basketball team to win sliver medal at the last  National Sports Festival in Kaduna "KADA 2008", disclosed that all arrangement have  been concluded to dunk off the tourney on Monday, 20 December at the basketball  court of Nigeria Police College, Ikeja and the Sports Hall of the Mobolaji Johnson  Sports Centre, Rowe Park, Yaba, Lagos.
Balogun said one of the new innovations in this year's tourney is the holding of the  competition at two venues.
According to the him, "this year's edition will be bigger in terms of sponsorship  and organisation because apart from youth teams from Lagos State who will take part  in the competition, we have also invited teams from other states to make the  tournament more competitive".
He informed that the tournament will feature teams in the U-18, 16 and 14 in both  boys and girls' categories.
He also said that the grand finale of the five event will hold on 24 December at  the Sports Hall of Rowe Park Sports Centre, Yaba.
Balogun, who is a police officer thanked  ipNX Nigeria Limited for supporting  basketball development in Nigeria, saying its support for the tournament in the last  three years has help in discovering many young players who are today featuring in  the Premier League.
"We are currently discussing with our sponsor, ipNX Nigeria Limited on a long term  sponsorship of the tournament, which is one of the best organised youth tournament  in the country today.
—Wale  Joseph
Copyright protected by Digiprove © 2010 P.M.News
Load more