Frontline nationalist and statesman, Pa Anthony Enahoro is dead. He was 87.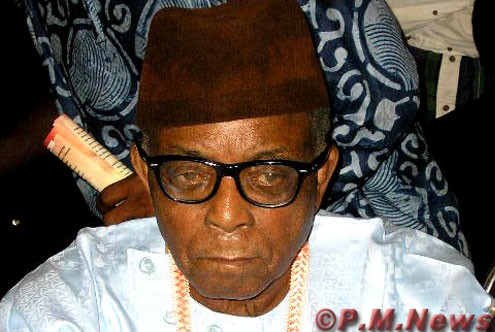 Alfred Ilenre, a  close political ally of the late politician wept this morning as  he told P.M.NEWS that Pa Enahoro died at the University of Benin Teaching Hospital,  where he was rushed after his fragile health got worse.
Many Nigerians who learnt of the death of the elder statesman this morning thanked  God for his life, saying he lived a fulfilled life worthy of emulation..
Mr. Wale Okunniyi, Publicity Secretary, Pro National Conference, PRONACO and one of  Enahoro's political associates said the demise of Enahoro "is very destabilising at  this period when the nation is marching towards restructuring.
"He was the icon of restructuring in Nigeria. He trained us to fight for the  progress of this country. He was the strongest nationalist ever.
"His death is unbelievable to us and it is very destabilising. We will continue to  fight for what he believed in. He taught us a lot of things in the struggle to make  our nation better and we will remember them," he said.
Lagos lawyer, Festus Keyamo, also lamented Enahoro's demise, saying he was the last  of the pre-independence nationalists to pass away. He wished him a happy rest.
National Publicity Secretary, Afenifere Renewal Group ARG, Yinka Odumakin, described  the late politician as a nationalist in deeds and truth.
According to him, Enahoro had paid his due. "It is unfortunate that he did not live  to see the Nigeria of his dream," he added.
Human rights activist, Bamidele Aturu, described Enahoro's death as sad and  unfortunate, saying: "We will miss him. He wrote his name in gold when he moved the  motion for Nigeria's independence in 1953. I condole with his family."
National President, Campaign for Democracy, Dr. JoeOkei-Odumakin said: "We mourn the  passing away of Enahoro. His death is a great loss to the human rights movement in  Nigeria. He struggled for the rule of law and the promotion of democracy.
"Our regret is that a new Nigeria still remained in the offing till he died. We will  continue the stuggle from where he stopped. May his soul rest in peace."
Founder, Coalition Against Corrupt Leaders, Comrade Debo Adeniran, described  Enahoro's death as a serious blow to the struggle for a new society. "Enahoro was  the father of Nigeria's independence.
"He started the stuggle to free us from the colonial masters. His dreams could not  be realised in his lifetime. We must stand up for his ideals and reject unworthy  leaders. We will for ever remember him," he stated.
The late Enahoro was an accomplished journalist, author, publisher, politician and  elder statesman.
He was born in Uromi, Ishan, Edo State on 22 July, 1923. He later became an Edo  traditional title holder of Adolo of Uromi.
He attended Government Schools in Uromi and Owo and later King's College, Lagos.
At the age of 21 in 1944, he became the youngest editor till date when he edited in  Ibadan, Southern Nigeria Defender.
He later moved to Kano as the Editor of Daily Comet, 1945 – 1949. He was Associate  Editor, West African Pilot, based in Lagos; Editor-in-Chief, Morning Star, 1950-53.
On the political front, Chief Enahoro was a foundation member of Chief Obafemi  Awolowo-led Action Group political party. From 1950-53, he was Minister of Home  Affairs, Transport and later Information of the Western Region and Mid-West Affairs  leader of the House from 1954 –1959.
He later became a Federal Commissioner for Information, Culture, Youths, Sports,  Cooperatives and Labour, 1967 – 1974.
Chief Enahoro was the Publisher/Chairman of World Publications Limited, publishers  of Sunday World, The Weekender and Woman's Vista magazine based in Benin City.
During the struggle for Nigeria's independence from Britain in the 1950s, Enahoro  attended all constitutional talks preceeding her independence in October 1, 1960.
On 31 March, 1953, he rattled the British colonical masters when he moved the  historical motion for Nigeria's independence at the London constitutional  conference.
During the emergency period in the Western Region in 1962, he went into political  exile in the U.K. He was extradited and became what he called a 'fugitive offender'  in his memoir of the region's political crisis.
Aged 87, Enahoro was the Chairman of the National Democratic Coalition, NADECO, the  group that pushed the late military dictator, General Sanni Abacha out of power.
Alongside NADECO chieftains like Pa Adesanya, Ayo Opadokun, Enahoro was tear-gassed  in December 1995. He broke down.
When the hassles died down, Pa Enahoro later told journalists: "I wept. Yes, I wept  for a country that does not know that her citizens have a right to live."
The late nationalist was reported to have problems with his breathing on Monday, 1  November this year. He was rushed to the intensive care unit of the University of  Benin Teaching Hospital for medical attention. The rumour mill then went to town  that the foremost nationalist had passed on.
Though his admission into the hospital was confirmed to journalists by a family  source who spoke under the condition of anonymity, the authorities of the UBTH and  the Edo State Government denied the death story, confirming that Enahoro was  hospitalised but he was still alive.
He made his last appearance while alive on the front pages of newspapers on 2Â  November, 2010.
Copyright protected by Digiprove © 2010 P.M.News
Load more