Fuji music icon, Alhaji Sikiru Ayinde Barrister is dead. His death was confirmed to P.M.NEWS this afternoon by his son, Wale, popularly known as Barry Showkey.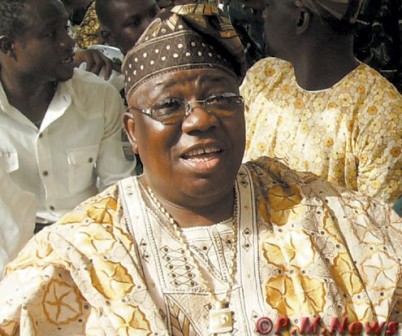 Investigations revealed that the musician popularly known as Alhaji Agba died this morning at St. Mary Hospital, London after a protracted illness.
P.M.NEWS gathered that Dr. Sikiru Ayinde Barrister had been  in and out of hospital in the past two years and was operated upon in an Indian hospital early in the year.
On his return from India,  Barrister was again rushed to Havana Hospital, Surulere, Lagos and was later flown to the Universal Clinic, Germany. From there, the 'Fuji Garbage' crooner was admitted at St. Mary Hospital, London, where he died this morning.
One of Nigeria's best known singer/songwriters, Chief Sikiru Ayinde Barrister played an essential role in the evolution of the music in his homeland. The leader of a 25-piece band, the Supreme Fuji commanders, and a smaller group, the Africa Musical International Ambassadors, Barrister continued to be one of the leading purveyors of fuji, an exciting, amplified dance music combining juju, apala, and a traditional Yoruba blues that he introduced in the late 70s.
Barrister sang most of his life. By the age of ten, he had mastered Were, a complex, Yoruba vocal style that was traditionally performed during the holy month of Ramadan. Although he briefly attended a Muslim school and later Yaba Higher School, now Yaba College of Technology, in 1961, financial difficulties prevented him from continuing. Leaving school, he found employment as  a stenographer. During the civil war that swept through Nigeria between 1967 and 1970, he served in the army. Signed by the Nigerian-based Africa Songs, Ltd. label, Barrister recorded many ground-breaking singles during the 1970s and 1980s with his heartfelt vocals set to a rhythmic mix of talking drums, claves, bells, shekere, drum set and Hawaiian-style guitar. He laid the foundation of fuji which he named after Mt. Fuji, the Japanese mountain of love. The style has been described as "juju without the guitars" and a "percussion conversation."
—Ayodele Lawal, Kayode Aponmade, Bayo Adetu, Oyinkansola Salimon
Copyright protected by Digiprove © 2010 P.M.News
Load more