President Goodluck Ebele Jonathan has declared in strong terms that no politician or political group can threaten the sovereignty of Nigeria.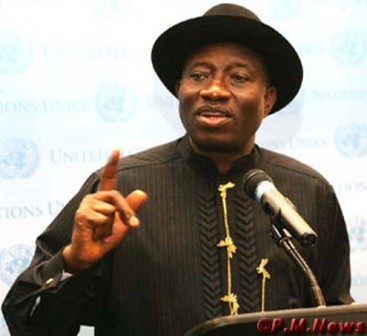 He stated this today during the decoration of newly promoted Naval officers which held at the Nigerian Army Headquarters Officers Mess in Asokoro, Abuja.
President Jonathan also declared that Government will not condone the culture of careless and inciting utterances especially by politicians, stating that "we will not allow anybody to take this country for a ride."
"I frown at people, especially politicians who make statements challenging the sovereignty of this nation. Government will not take this lightly. We will no longer allow that kind of culture. We will not allow anybody to take this country for a ride".
The president said Nigeria's high rating in the international community should not be sabotaged at this time, when the nation is consolidating its leadership role in the African continent and the globe, pointing out that it is the military and the police that bear the brunt in a crisis.
"I have been receiving calls from presidents all over the world because they believe that Nigeria can salvage the situation in Cote D'ivoire. That tells you how other countries rate Nigeria".
The president also commended the professionalism and discipline of the Nigerian army, which he said have earned Nigeria an enviable standing in the international community.
President Jonathan therefore urged the military to maintain its good standing in the African continent and globally.
He congratulated the newly promoted officers and called for more women participation in the nation's armed forces saying "I look forward to seeing more Nigerian women flying our fighter jets in the near future".
Copyright protected by Digiprove © 2010 P.M.News
Load more