Members of the family of Fuji maestro, Alhaji Sikiru Ayinde Balogun, a.k.a. Sikiru Ayinde Barrister, who died yesterday in a London hospital are to meet today at the 'Fuji Chamber' residence of the deceased at 24, Lamina Lawal Street, Isolo, Lagos, Southwest Nigeria to decide the final resting place of the late musician popularly called Alhaji Agba by his numerous fans.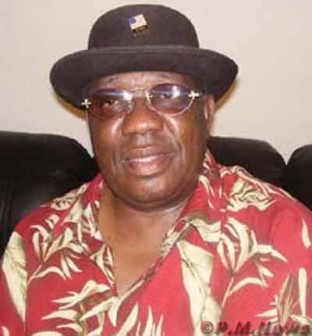 Sikiru Ayinde Barrister, a Muslim, P.M.NEWS gathered, will not be buried in a hurry.
Before his death, the famous Fuji musician, it was learnt, told members of his family and close associates to bury him wherever he dies.
This instruction has resulted in a wrangling among his family members on whether to bring him to Nigeria or bury him in London. "Some members of his family will like him to be buried in Nigeria," a source added.
His first son, Abdul Rasaq Balogun, who is based in Dublin, Ireland, it was gathered, has travelled to London to receive Barrister's corpse and decide whether to bury him there or bring him home.
Some members of the family have been arriving his Isolo residence for the meeting. Those who have arrived are two wives of Sikiru Ayinde Barrister, Deaconess Adebisi Balogun and Alhaja Bola Balogun. Some children of the deceased, Bola, Wasiu, Samson and Demola Balogun were also seen receiving visitors and sympathisers at the residence.
Early sympathisers at the residence this morning include Alhaji Buhari Oloto, a close associate of the late Sikiru Ayinde Barrister; Iyalode of Mushin Odi-Olowo; Dr. Frederick Fasehun, founder of Oodua Peoples Congress, OPC; Admiral Dele Abiodun, President, Performing Musicians Association of Nigeria, PMAN; Femi Opalemo and Sunny Wonder.
Commenting on the death of her husband, Deaconess Balogun said she learnt of the death through Raliat, a nurse attached to Sikiru Ayinde Barrister in London around 11 a.m. yesterday.
"I was shocked when I heard the news. I broke down immediately and wept. Barrister was one man every woman would love to have as a husband. He was like a father to me.
"He was generous and nice to everybody he came across. I have lost my better half. I will miss him," Mrs. Balogun told P.M.NEWS this morning.
Two of Barrister's children, Samson and Demola Balogun, described their father as great and expressed shock at his death.
Efforts to know the real cause of Barrister's death proved furtile as members of his family who spoke with P.M.NEWS did not know.
Barrister was said to have died of complications arising from removal of excess fats in his body. The Fuji musician was said to have weighed about 140 kilogrammes. But after he was operated upon in India, his weight was reduced to 70 kilogrammes.
But during the weight reduction operation, some of his ribs were said to have cracked.
He went to fix this in a German hospital. Afer this operation, he travelled to London to recuperate.
In London, complications developed and he was rushed to Saint Mary's Hospital, London, where he died in the early hours of yesterday.
Another source attributed Barrister's death to his bad leg where he was shot as a soldier during the Nigerian civil war.
Popular Lagos socialite and Barrister's childhood friend, Alhaji Buhari Oloto, who visited his family this morning said he was by his bed side in London three days ago.
Speaking on the burial of her husband, Barrister's eldest wife,  Adebisi Balogun said the corpse of the musician was on its way to Nigeria.
Musicians, especially those of the Fuji genre have continued to visit Barrister's house to sign the condolence register. Early this morning, the duo of Saheed Osupa and Sunny T. Adesokan visited the family.
—Ayodele Lawal, Bayo Adetu, Kasali Akinwande & Oyinkansola Salimon
Load more