JT (Jemima Abel Damina), JP (Jesimel Precious Abel Damina) and JJ (Jewel Precious  Abel Damina), are the new kids on the block ready to take the music industry and the  entire Nigerian community by storm.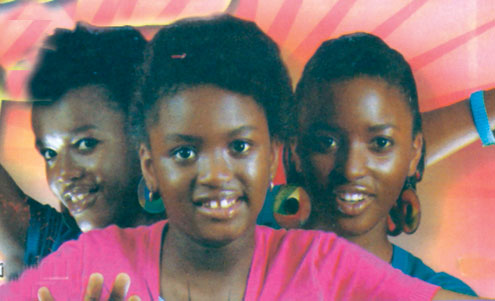 Bouqui, a gospel and inspirational hip-hop star, who discovered the trio, stated  that "the girls are so talented, there is nothing as fulfilling as finding and  nurturing new talents and watching them rise to fame."
Bouqui's new girls are known as Triple J Plus.
The oldest of the sisters is JT, who was born in 1994. She is an intending fresh man  at Oral Roberts University, USA and likes dancing, cooking and travelling. JP, on  the other hand, is 15 years old. Her hobbies include singing, basketball and  creative arts. The youngest, JJ, is eight years old and she likes drawing, making  friends and dancing, while the colour she likes most is red.
Bouqui said she took to the sisters after she was floored by their raw talent,  energy, passion and dedication.
Her involvement in this project will be no surprise to her long-time fans, who have  known the rapper for dipping her feet in new territories and immersing herself in  new challenges.
As a young child, she discovered her passion for music and in her teens, formed the  all-female group, G-Vibes. She also branched into broadcasting by presenting on Eko  FM.
Two years after the release of her first album, Bouqui released the second,  Redefinition, which further cemented her as one of the most famous female acts in  the country. Her first single, Mo Ri Le, was an instant hit, followed up by another  successful single, Take You Away. An energetic live performer, the rapper went on  the road and toured extensively in the UK, US and Nigeria in 2009 and the better  half of 2010.
Now, she's taking time off her crazy schedule to present Nigerians a worthy gift:  three amazing gifted sisters for the prize of one.
Born and raised in Uyo, Nigeria, Triple J Plus have known music for a long time and  are usually of the notion that music for them is inbuilt. "We have known music for  as long as we can recall, but it officially took its shape and call last year," JT  said.
JP adds: "We were a part of a music competition organised by AKBC in Uyo three years  ago, where we came fourth. We are sure our music will cut across the younger  generation as we pass across, messages that they can relate to."
Bouqui's main focus is on developing and nurturing Triple J Plus into a full-fledged  act that can stand the test of time.
Copyright protected by Digiprove © 2010 P.M.News
Load more