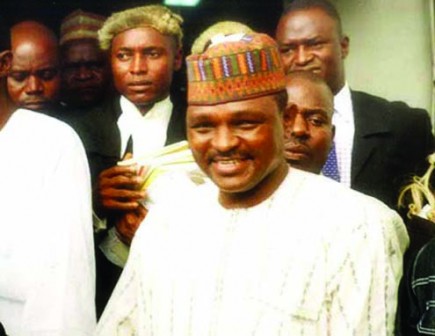 A Lagos High Court, this evening, discharged and acquitted Major Hamza Al Mustapha, former Chief Security Officer to the late maximum ruler, General Sani Abacha, of the attempted murder charge filed against him by the state.
He was acquitted along with others charged with conspiracy to murder and the attempted murder of Mr. Alex Ibru, publisher of The Guardian and the Internal Affairs Minister in the Abacha regime.
Also discharged are Mr. James Danbaba, former Lagos State Commissioner of Police,  CSP Mohammed Rabo Lawal and Col. Jibrin Bala Yakubu, former military administrator of Zamfara State.
In his judgment, Justice Mufutau Olokoba said the evidence of the witnesses against the accused were not credible, inconsistent and worthless. "Therefore, no prima facie case has been established against the accused," he ruled.
It is not certain if the former CSO and his colleagues will be released as they are also standing trial before Justice Ayoka Dada of the same Lagos High Court for the alleged murder of Alhaja Kudirat Abiola, wife of the winner of the acclaimed June 12, 1993 presidential election, Basorun M.K.O. Abiola.
Ruling on the no-case submission made by Mustapha and others was earlier scheduled for last Tuesday by Justice Olokoba but he failed to deliver it because he was reportedly ill.
Journalists and few of the acquaintances of the accused persons came to court only for them to discover the expected ruling was not going to take place after all.
Justice Olokoba who fixed the date for the ruling last month after all counsels had finished adopting their written addresses, had not completed writing his ruling on the matter. This, it was gathered, was caused by his illness.
Al-Mustapha and Co had contended before the Court that they had no case to answer in the attempted murder of Alex Ibru, conspiracy to murder Issac Porbeni, conspiracy to murder Alex Ibru, bodily harm on Alex Ibru, conspiracy to commit assault and arson on Rutam House (the Corporate Headquartres of The Guardian).
Their counsels had argued that the prosecution had not been able to prove their case beyond reasonable doubt. Hence, they prayed the court to acquit and discharge them.
Copyright protected by Digiprove © 2010 P.M.News
Load more