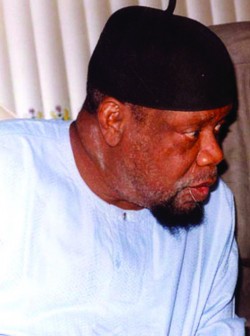 By Jude Orji, Kazeem Ugbodaga & Eromosele Ebhomele
Ailing Ikemba Nnewi, Chief Emeka Odumegwu Ojukwu has been flown to the United Kingdom, UK, to continue his medical treatment.
The former Biafran warlord was taken to the Akanu Ibiam Airport, Enugu, this morning in a white air ambulance with registration number E-CSIX.
The air ambulance arrived the airforce wing of the airport at 11.40 a.m. from the University of Nigeria Teaching Hospital, UNTH, Enugu, where he has was on life support machine because of his breathing problems.
Investigations revealed that the air ambulance was hired by the administration of Governor Peter Obi of Anambra State, the only All Progressive Grand Alliance, APGA, governor in the country. Ojukwu is the leader of APGA.
Chief Medical Director of UNTH, Dr. Anthony Mbah, confirmed to newsmen that the APGA leader was placed on an artificial breathing machine when he was discovered to be breathing with difficulty.
Ojukwu, he said, was brought to the hospital on Sunday in an unconscious state and was immediately placed in the Accident and Emergency Ward.
Prof. Vincent  Ike, a Consultant Cardiologist is the head of the medical team battling to save Ojukwu's life.
"The opinion of the medical team treating him is that he has a stroke and as I am speaking to you now, he is on a ventilator, an artificial breathing machine, just to help his breathing because he was breathing excessively when he was brought here," Dr. Mbah told journalists.
"As a hospital, we have provided transport, oxygen and we are updating his medical certificate every moment in order to be ready for his evacuation," he added.
Meanwhile, Igbo leaders have called on Nigerians to pray for the former Biafran leader.
Speaking with P.M.NEWS, leader, Movement for the Actualisation of Sovereign State of Biafra, MASSOB, Chief Ralph Uwazuruike called for urgent prayers for Ojukwu to recover from his illness.
"Nigerians should pray for him. In short, he is recovering and in a short time, he will be up. We want him to live; he must live," he stated.
Former Information Minister, Uche Chukwumerijie also called for prayers for the ex-warlord.
The Onye Ndu Igbo of Lagos, Chief Christian Nwachukwu appealed to Nigerians to intensify prayers for Ojukwu to recover on time.
"The Ndigbos are praying for him and Nigerians should pray for him too; he is precious to us and we don't want to lose him now. We want him to witness the elections," he stated.
The Eze Udo of Mushin , Lagos State , South West Nigeria, Chief Peter Umeh called on Nigerians to pray earnestly for Ojukwu because "he is our leader. We need his presence and his fatherly advice is needed too."
Publicity Secretary, Action Congress of Nigeria , ACN, Mr. Joe Igbokwe said "God forbid that Igbo nation, Nigeria and Africa should lose Ojukwu at this critical time in the nation's chequered history.
"Ikemba Nnewi must not die now. Nigeria still needs him, Igbo nation still needs him. We still need his advise because experience cannot be learnt from textbooks alone."
Mr. Osita Okechukwu of the Conference of Nigerian Political Parties told P.M.NEWS that at one point in a person existence, he is bound to be ill.
"In Japan, the life expectancy rate is 83 and despite the situation in this country, Ojukwu is not up to that age.
"For God's sake, you need to know the number of people that die from malaria on daily basis in Nigeria . So, Ojukwu's case is what happens to every mortal," he said.
A political analyst and head of the Movement for New Nigeria, Tony Nnadi, said though he had no further information on the state of Ojukwu's health other than what he read in the newspapers, his biggest wish "is for Ojukwu to recover not just from unconsciousness but the stroke because he has an unfinished business to see through.
"People have continued to mistake the war he fought as a civil war. We should know that it was not a civil war, but a war between two countries, Nigeria and Biafra and the goal of the war is not yet achieved," he said.
Noting that the zone had not produced a president ever since, Nnadi maintained that the unfinished business which Ojukwu was engaged in must become a reality.
"Whatever has made the Oodua Peoples Congress to carry arms; whatever made MEND to carry bombs and attack Nigeria on Independence day, is not different from what happened in Biafra .
"Ojukwu was part of the struggle with the late Anthony Enahoro in NADECO. So one would wish that he recovers very soon to carry on with the struggle," he added.
Dr. Chris Mustapha Nwaokobia, a presidential aspirant in the forthcoming election, told P.M.NEWS that Ojukwu had done his best for the country.
"His illness has shown that we need to revamp our medical sector. The challenges of flying him abroad has become a disgrace to the country.
"Our hospitals have been left unattended to making them mere consulting clinics. His illness calls to mind the need to make our government more responsive and that is why younger men like us are vying for the presidency.
"I wish that he stay alive to see the country we are challenged to build," he said and asked the country's leaders to learn from Ojukwu's challenges.
For High Chief Ikem Agbasi, Chairman of VIDAC Equipment Nigeria Ltd, his prayers is that the Ikemba Nnewi lives to see the new Nigeria that President Jonathan had promised through free and fair elections in 2011 "where our votes would count."
Copyright protected by Digiprove © 2010 P.M.News
Load more