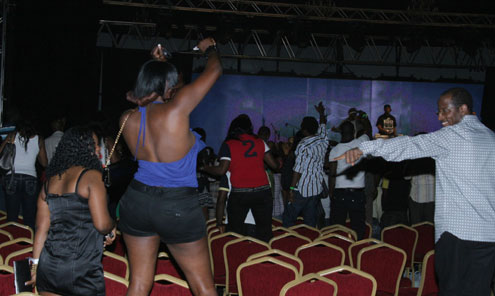 While other business owners are counting their gains as result of increased patronage engendered by the yuletide celebrations, the situation is different for operators in the entertainment sector in Abuja.  As investigations by P.M.NEWS revealed, club owners in Abuja are counting their losses as rather than increased patronage, the festive season has brought about by a lull in their business. This, it was gathered may not be unrelated to the usual exodus from the capital city during yuletide celebrations. The downturn in clubbing business, P.M.NEWS gathered, is also affecting prostitutes who now do everything possible to attract the attention of few men who still patronised the clubs.
Checks at the major clubs in Abuja last Tuesday night revealed that most of the clubs, most of which operates round the clock have been deserted by patrons most of whom have travelled outside the city. It was gathered that the lull in club business became serious immediately after the Christmas celebrations.  Crawling around the city  on Tuesday 28th, P.M.NEWS observed that that there was no single soul on the dancing floor of Clems Night Clubs along Adetokunbo Ademola in Wuse 11, Abuja. In fact, those familiar with the club, will hardly believe that the club is still operating.  P.M.NEWS also observed the same situation at Rita Lori, one of the oldest clubs in the city, situated in Garki 2 area of the city.  Looking around the premises, P.M.NEWS observed that the usually very busy club looked deserted. It was observed that there were just about 10 men and 25 women in the vast premises while the night club was locked up.
The situation was not different at Ibiza, another popular club located in Gimbiya Street, Area 11, Abuja.   Indeed, the entire Gimbiya street stretch can be described as one of the notorious area frequented by prostitutes in search of patrons in the capital city, next only to Wuse Zone 4 in terms of the presence of women of easy virtue.  Ibiza was not its usual bustling self when P.M.NEWS visited on on Tuesday 28th December. The open air drinking joint which used to be very busy, with customers sometimes struggling to get a seat was virtually deserted as P.M.NEWS observed that there are not up to 20 people with green bottles at the joint.  Getting in to the club, it was further observed that there only 16 customers at the club as at 1.30am. P.M.NEWS also observed that there are   seven male and ten young beautiful looking ladies at the club.  Three of the girls were observed trying to impress one guy, dancing rounding him to get his attention and probably to take them home for the night.
By Femi Ipaye.
Copyright protected by Digiprove © 2010 P.M.News

Load more