By Kazeem Ugbodaga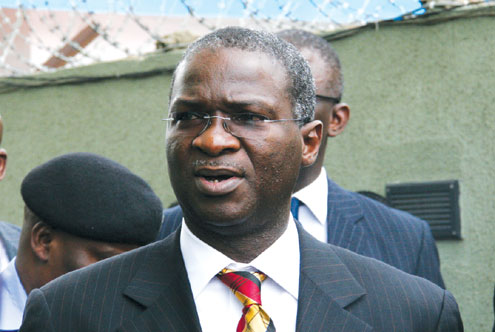 Governor Babatunde Fashola of Lagos State, South West Nigeria has told the Peoples Democratic Party, PDP to forget about its dream of capturing Lagos, saying the Action Congress of Nigeria, ACN was ever ready to win every available seat in next year elections.
Fashola, who spoke at the 2010 Community Day celebration, organised by the Ministry of Rural Development said that there was no cause for alarm over PDP's capturing of a constituency in Ikorodu, saying that the PDP and other opposition parties were very deceptive and should be avoided like the plague.
The governor told the people that PDP and other political parties in their quest for the soul of the state would soon commence various campaigns to woo their votes, urging them all to shun such campaign since they were aimed at mortgaging and eventually looting the state.
"Please, don't be carried away by the campaign of those political parties that would soon be coming to you with fierce campaign to win your votes; be aware that they are only full of deceit and falsehood," he stated.
However, the governor said that the clamour for free, fair and credible elections in the coming  year had been of concern and at the centre of discourse among all stakeholders-the political elite, civil society groups, non-government organisations, the media; both print and electronic, academics, among others, saying that this is understandable.
"But let me quickly say that I am very optimistic that with everybody playing his/her part, and expected role, according to the rules of the game and in accordance with the operating relevant laws, there is no cause for alarm. But let me put us on caution, that we must be alert.  "The price of liberty is eternal vigilance".
"Our various Community Development Associations, CDAs, have a critical and crucial role to play. I know some of the associations and their members must have been making some mobilization in this regard but you need to do more, you must double your efforts in ensuring that members of your community come out in large numbers to register during the voters' registration exercise," he said.
According to Fashola, "you have a duty to educate and enlighten the elderly, the farmers, the fishermen, artisans, market men and women on the need for eligible voters to register. This is a fundamental and cardinal step in determining and choosing your representatives during the forthcoming general elections. Do not develop any apathy. You must all go out and vote on election days and ensure that your votes are counted.
"What happens on election days and its outcome determines who governs us and how we shall be governed.  Our doors remain open for your suggestions, complaints, desires and aspirations as well as the challenges you may face."
The governor added that the last voting exercises were not credible because people refused to register their names with INEC, adding that the community was the link through which the governments reached the people.
Fashola also urged all security agencies to be at their best in order to ensure peaceful registration and subsequent election.
Commissioner for Rural Development, Prince Lanre Balogun in his speech disclosed that government had fashioned out programmes geared towards alleviating the living condition of the rural populace while stemming the rural- urban drift and maintaining a close work liaison with the CDAS in the state.
He added that one of the ways which transparent and reliable election could be guaranteed was through mandate protection and proper community policing on election day.
The Commissioner stated that under its year 2009 programme, the Ministry of Rural Development through its various departments handed over 500 rural projects to communities in Lagos State.
According to him, the failure of the rural communities to modernize the production process had been the bane of income gap between existing strata of the rural economy, adding that "this in turn has heightened rural unemployment which has triggered off high level rural-urban migration with grave social-economic implications for city dwellers."
He pointed out that the lingering development challenge faced by the rural communities had further necessitated the continuous updating and upgrading of new and existing infrastructure in the state.
The Special Adviser to the Governor on Rural Development, Mr. Paul Kalejaye, however announced  that Topo Community Development Association (CDA) in Badagry won this year's overall best CDA, thus carting away a new 14-seater coaster bus and N400, 000 for  self-help projects.
Ojokoro-Ahmadiyya came second to win a tricycle and N400, 000; United CDA in Igando–Ikotun CDA came third to win a motorcycle and N400, 000 while Winners CDA won the fourth place with N400, 000.
Copyright protected by Digiprove © 2010 P.M.News