Music video director, Akin Alabi, in this interview, speaks about his life, the music industry and other issues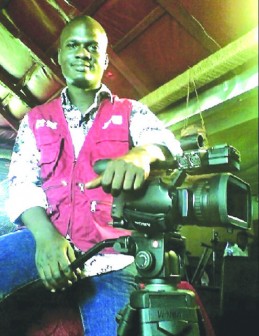 Your works are so popular, but a lot of people don't really know you. What kind of person are you?


I come from a family of four and I am the only boy and graduate of Business Administration from the University of Ilorin. I am a native of Ekiti State and married.
Your journey as a music video director?
The journey was not deliberate. It wasn't as if I planned to become a video director. I actually started when I was in the university. I was into graphic designing then, later I started writing songs and in my final year in 1999, I waxed an album. So from there, the love for music started and it got to a period that I went to do a video for one of  the songs in my album and met one of the music video directors then, Uzodinma Ukpechi and by the time he gave me his price, I decided to buy equipment with that money. It was during that time that I actually realised that since I am into graphics and audio production, which are not far from video directing, I could do it by myself. So, the first video I directed was my own and when people saw it, other jobs started coming.
How much did Uzodinma charge you then and why did you think your career didn't blossom as a singer?
He charged N200,000. I didn't shoot the video because the money was too much, but because I felt it could be invested in some other things more profitable. I used the money to buy some equipment and that was how the whole thing started. My career as a singer may not have really  blossomed then because my attention was in a couple of things. I was still doing the graphic designing, website designing and all that. Let me also use this medium to clear the impression that I am just a music video director, the directing stuff is just one part of me because I'm also a professional photographer. I held an exhibition in Lagos a few weeks  ago and it was really wonderful. People came  from all walks of life to see and buy the pictures. I was surprised that most of the people liked a particular goat picture that I snapped at Olumo Rock. It was the most patronised picture during the exhibition. I'm also going into the movie industry. I have already shot and edited a TV soap, Ring Of Fire, which will be on air between January and February next year. Later, I hope to go into home video production.
What mark do you intend to make as a film maker?
I want to make a difference. I discovered that a lot of things are wrong about our movie industry and those are the things I intend to change with my productions.
Out of the numerous musical videos you've shot, which particular one gave you a breakthrough?
I don't think there is a particular job that gave me a breakthrough, it is simply the collection of all the jobs that I have done. As music video director, you need to do a couple of good jobs before people will start noticing you and I guess that was what happened.
But there should be a particular job that seems to give you more satisfaction personally?
All my jobs give me satisfaction, especially the ones I did for 9ice and Timaya.
Your source of inspiration?
First of all, it is God and then things around me. I am an introvert and like to be indoors most times. I don't like attending events and whenever I'm indoors, I think creatively about the things around me.
How will you rate the Nigerian music industry?
I will give it 2 over 10. We still have a long way to  go in terms of good messages. The artistes, I believe, will also blame the audience for that. They believe that what they are doing is what the society wants; that is the general perception and I think artistes have to change that mentality. Clarence Peters once said that we define the internationals, who don't care about us. So, as an artiste, you should be able to define what your audience will accept and not the other way round. Drive your market, not the market driving or dictating to you. I think artistes should be more creative and bold in the coming year. They should do what they really believe in and not what they think the market wants. But there are some that still play good music and people like them.
In terms of video production, how will you rate the industry?
I will give it 6 over 10.
Do you think the quality of Nigerian videos can match those of their foreign counterparts?
To an extent. You see, the depth of the videos we produce depends on the depth of the song. And most times, we have songs that don't have depth; they are all saying the same thing, so it is very difficult to create something different for songs that have the same pattern, beats and message. So,  I won't really say much on the part of video directors because everything that we do depends on what the artistes give to us. It is basically left to the artistes to change their style. For instance, if you listen to 2face's new album, the songs are diverse. It is not a one-sided album; the songs have different messages and concept. Such work will really bring out the creativity in a video director.
Is that the only reason why foreign video makers have an edge over their Nigerian counterparts?
They also have an edge in the area of technology and infrastructure. We are not asking much from the government, all we want is stable power supply because there is no way you can have very good production when generators are making noise everywhere around you. Let the government just solve the problem of electricity and you  will realise that a lot of things will change.
President Goodluck Jonathan recently promised the entertainment industry $200 million?
Well, that is not what we are asking for. All we want the government to do for us is give us stable electricity. We've not even seen the money and some practitioners are already fighting over it. We just pray that better things will happen to the industry in the coming year.
—Bayo Adetu