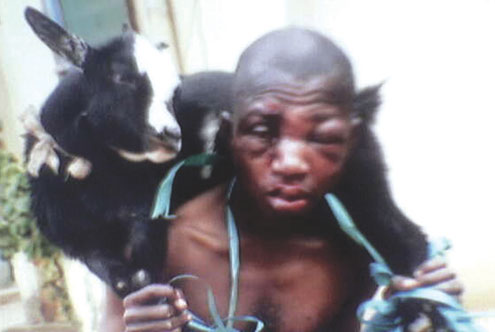 Rotimi Owoseni who specialises in stealing goats in Lagos State, South West Nigeria has made a startling revelation at Ejigbo Magistrate's Court when he told  the court that most of the goats he had stolen were sold to food canteen operators.  He narrowly escaped being lynched when he was caught.
The father of two kids told the court presided by Mrs. S. O. Solebo that when his accomplices steal the goats, they give it to their customer, a woman simply  known at Iya Busarat residing at Mile 12 area who then distributes them to food sellers at give-away prices.
The 35-year old man said that the food sellers prefer to buy the goats from them because they sell at a give away price than when they go to markets to buy  goats.
He asked for the forgiveness of the court and pleaded guilty to the charge.  He told the court that it was his friends, Sunday and Felix who are now at large  that lured him into the 'business'.
Rotimi escaped being lynched by a mob when he was caught stealing goat at Igando on the outskirts of Lagos recently.
He was caught on Sunny Thomas Street, Igando where he was attempting to steal a goat with his friend, Felix. The goat belongs to Mr. Mukaila Sabita.
He was unlucky as the owner of the goat saw him and raised alarm which attracted neighbours.
Rotimi was caught and beaten mercilessly by the crowd before the arrival of the police from Igando Police Station, while his friend escaped.
He had been earlier charged before the court and he pleaded not guilty but later changed the plea to guilty when the matter came up on Monday.
The matter has been adjourned till 19 January for judgment.
— Cyriacus Izuekwe
Copyright protected by Digiprove © 2011 P.M.News