A jilted lover has been arrested by the police at Isheri Oshun, Lagos for allegedly  setting his girlfriend's shop ablaze because she refused to marry him.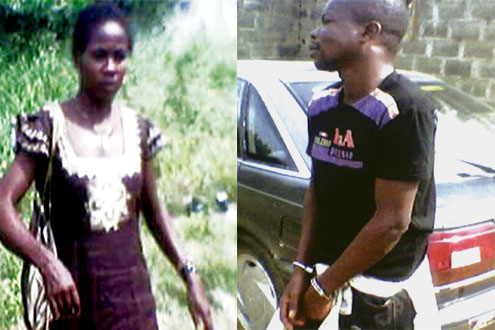 Nsidibe Achibong was alleged to have poured some petrol and used matches to ignite  fire on the shop owned by Margaret Caleb at 50, Lafunke Street, Ijegun, Lagos,  South-West Nigeria.
The seemly frustrated man carried out the act after fruitless attempt to convince  her to marry him.
P.M.NEWS gathered that Margaret was once married to a man who abandoned her with two  kids and went abroad where he has remained for many years now. Since then, the  husband has not contacted her.
While facing the agony of taking care of the two children the husband left behind,  Nsidibe approached her and told her that he wanted to marry her.
P.M.NEWS gathered from the victim that she told  him to leave her alone because of  the trauma she was going through. But the defendant could not hear any of her  excuses and along the line, started to threaten her life, which she reported to the  police.
Margaret told P.M.NEWS that on the day of the incident, Nsidibe came to her shop  where she was doing her fashion design business and poured petrol and burnt the  place. But before the fire could be extinguished, everything in the shop had been  destroyed.  After committing the act, he escaped.
He was later arrested by the police who preferred a charge of arson against him.
He was arraigned in the magistrate's court at Ejigbo.
The offence he committed was said to be contrary to section 443 and 451 of the  Criminal Code.
When he was arraigned before the presiding magistrate, Mrs. S.O. Solebo, she noted  that the offence he committed was a capital offence and ordered that the police  should take him to the high court at Ikeja.
—Cyriacus Izuekwe
Copyright protected by Digiprove © 2011 P.M.News