The Presidential Candidate of the Action Congress of Nigeria (ACN), Mallam Nuhu Ribadu, has described the Freedom of Information (FOI) bill as " a necessary tool needed to guarantee transparency and accountability in public office;" with a promise to ensure its passage when elected president.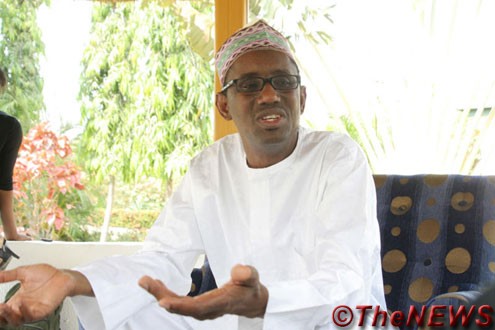 In a statement by Ibrahim Modibbo, the Director of Media and Communication of the Nuhu Ribadu Campaign Organisation, Ribadu described the non passage of the bill by the Peoples Democratic Party (PDP) led and dominated National Assembly as "treason against the people of Nigeria."
"We are not surprised by the action of majority of the legislators since most of them were not truly elected and therefore do not see it as their responsibility to champion the cause of the Nigerian people.
"However, with over 2/3rd majority in both chambers of the national assembly, one would have thought that the PDP which claims to be the largest party in Africa would champion the cause for the passage of the bill.
"The party instead continues to confirm the fear of Nigerians that while it continues to impoverish millions of Nigerians by its failed policies, it is not interested in the peoples' right to know how they are being governed," it was added in the statement.
The ACN flag-bearer also described the apparent nonchalance with which the administration of President Goodluck Jonathan has treated the FOI bill describing it as "condemnable."
"It is four years since the current government came to office, yet no one really knows where they stand on the FOI bill. How can President Jonathan claim to be a good leader when he cannot even champion the cause for transparency and accountability in office by actively promoting the FOI bill?
"While the PDP government has been taking Nigerians for a ride overthe FOI bill, countries like Armenia, Azerbaijan, India; and African countries like Liberia and South Africa have guaranteed their citizens right to information, and shown their interest in transparent
leadership by ensuring the passage and implementation of their own FOI bills."
Ribadu therefore called on Nigerians to vote out the PDP in all stages of the coming elections; as the only way for Nigerians to show their displeasure at the mishandling of the nation by the PDP is true the ballot box.
"An ACN led federal government  will not only guarantee the passage of the bill, but will ensure its full implementation; as transparency and accountability are the only ways of ensuring good and responsible governance," the statement added.
By Oluokun Ayorinde
Copyright protected by Digiprove © 2011 P.M.News