On Sunday 6 February, FELA!, the most critically acclaimed musical broadway on the life and times of  the late Afrobeat legend, Fela Anikulapo-Kuti was finally screened in Lagos, Nigeria.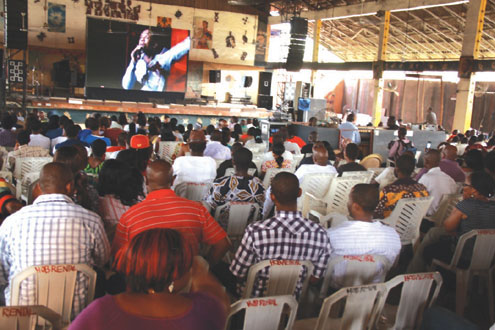 The screening, which saw hundreds of Fela's devotees and friends crowd into the New Afrika Shrine,  Agidingbi, Lagos for Nigerians' first glimpse of the award-winning musical, was made possible by the  British Council in Nigeria.
"It was natural that it would be nice to show this in Lagos and in the Shrine, so the (National  Theatre) provided a high-quality recording for us to show," David Higgs, Country Director of the  British Council told Showbiz Trends at the Shrine.
Ojoma Ochai, Assistant Director, Nigeria, British Council adds: "As you understand what we are  screening here today (Sunday) is the production of FELA! In London. The British Council, as you know,  create relationship between the people in Nigeria and the United Kingdom. So, we felt a production in  London that tells a story of a great Nigerian like Fela would be a good way to nurture that  relationship. That's why we are involved in the screening of the show here".
She said the council will be fully involved in the live show of the broadway coming up in March with  the entire cast of the original show in Nigeria for the musical.
FELA! according to Bill T. Jones, the Tony Award winning director and choreographer of the musical, is  a triumphant tale of courage, passion and love, featuring Fela's captivating music and the vision.
"I think the man's story still has a lot of power. It has the power to inspire people and to turn some  people off," Bill T. Jones said.
FELA! tells the true story of the legendary Nigerian musician Fela Kuti, whose soulful Afrobeat  rhythms ignited a generation.
"I think this show puts Fela at centre stage. It's true to his strident messages of human rights,  anti-corruption and individual empowerment, as well as his often complicated and raunchy lifestyle,"  Lara Odebunmi, director general, Lagos State Safety Commission said.
Odebunmi, who spent most of her life in England said the English people loved Fela's music and  personality so much and wasn't surprised with the role of the British Council in the screening. She,  however, frowned at the absence of the Pidgin language that Fela was renowned for.
"Fela was a Pan-Africanist. He further internationalised Pidgin language in most of his songs.  Ordinarily, element of such should have been incorporated in the musical. But that aside, its an  excellent production in honour of a genius like Fela," she said.
Motivated by his mother, a civil rights activist, Fela, defied a corrupt and oppressive military  government and devoted his life and music to the struggle for freedom and human dignity.
Copyright protected by Digiprove © 2011 P.M.News