Black Gold production has inked a deal with De Laurentiis Productions to produce a film about the  tragedy and injustice that plagues the Niger Delta region of Nigeria.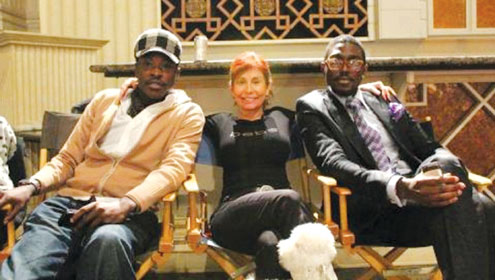 Award winning movie director, Jeta Amata is collaborating with 30-year veteran and award winning  filmmaker Suzanne DeLaurentiis to produce the feature film Black Gold: Struggle for the Niger Delta.
It is a story of murder, greed and corruption in the unsettled Niger Delta Region of Nigeria. The film  speaks of environmental injustice and the fight over control of oil resources and revenue largely  generated from this region.
It is the story of a local community's struggle against big-oil corporations and their determination  to win the rights for their land and their livelihood. Locals are caught in the crossfire after a  devastating pipeline explosion forces them to choose either protest and action or resort to violence  and kidnapping.
The line between good and evil is blurred as corrupt government officials, greedy oil companies and  violent rebels go on a war path over oil spills and the degradation of the land caused by oil  exploration.
Inspired by true events, Black Gold tells the story of the Niger Delta and its long and on-going  crises. The Niger Delta region of Nigeria has 606 oil-fields and exports 50 per cent of all its oil  resources to the United States and is the world's capital of oil pollution.
Fifty years of uncorrected oil spills and lack of clean-up has destroyed the environment and  ecosystems leaving the area almost uninhabitable while obliterating the livelihood of its residents  costing them basic human rights such as health, access to food, clean water, and an ability to work.
Showbiz Trends learnt that Suzanne, became intrigued by this story and after meeting with Jeta,  decided to come on board as a consultant and one of the producers.
The film has an impressive cast, starring Mbong Amata, Tom Sizemore, Vivica Fox, Billy Zane, Hakeem  Kae-Kazim, Sarah Wayne Callies, Razaaq Adoti, Dede Mabiaku, Eric Roberts, Larry Manetti and Michael  Madsen.
The movie was also produced in collaboration with Wilson Ebiye of Rock City Entertainment and Ori  Ayonmike of Starkid Inc.
The film was shot on location in the Niger Delta region of Nigeria and in Los Angeles, California.
Starkid Inc. owns worldwide rights to the film,  which production budget was $3.8 million.
Jeta Amata is coming from a family of veteran filmmakers (Ifoghale Amata, Zack Amata and Fred Amata)Â  and it is no surprise that he soars in the world of film and entertainment.
He rose to global prominence when he produced a film/documentary for the BBC, British Broadcasting  Corporation in 2003 using his film Game of Life as footage for the documentary. Black Gold will be  premiered at the Silverbird Galleria on 24 February  and opened for  public on 25 February, 2011.
Copyright protected by Digiprove © 2011 P.M.News