Two contestants with the lowest votes were evicted last Thursday on Nigerian Idol. The two contestants  Nina and Ola were part of the contestants the audience voted in during the top 50 phase. While Ola  made it to the final stage during the first group, Nina was the contestant with the highest votes in  the fourth group. But the Idol journey came to an end for both last Thursday as they recorded the  lowest fan votes.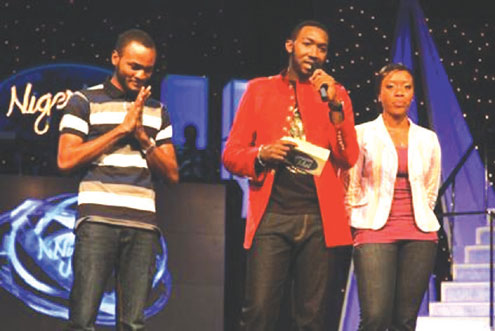 After their eviction was announced, the audience was treated to a recap of their journey so far, and  it was an emotional experience for the judges and the contestants. In fact Bibi and George couldn't  hold the tears.
"It's a tough decision to make, but if I had my way, I'd send Yeka Onka packing without looking back,"  Yinka Davies, one of the judges said right before Anis announced Nina and Ola as the contestants with  the lowest votes.
"I think I'd go with Yinka, I totally agree with her on Yeka," Jeffery Daniel, another judge added.
But then, the format had to be followed. The judges no longer have a say, but the audience does, and  so Ola and Nina had to leave.
Nina is a lawyer, but unlike most of the other contestants, she has a background in dance and not  music. She has been a dancer since childhood and was a member of a dance group in university. The  group also incorporated singing in their performances. The graduate of University of Nigeria  Nsukka also manages a spa in Abuja.
Ola (Olamide in full) is the most laid back among all the Nigerian Idol contestants. The 22-year-old  undergraduate of Babcock University claims that even though he is the first to sing professionally in  his family, his family members are involved in music, whether singing on an amateur level or just  appreciating good music. Before they left the competition, they performed for one last time.
Now with two people out of the competition, there are now 11 contestants remaining in the house.  Expect things to get tougher and more exciting as these contestants slug it out for the final prize of  N7.5 million and a record deal with Sony BMG.
Copyright protected by Digiprove © 2011 P.M.News