West Ham and Super Eagles striker, Obinna Nsofor is part of the Nigerian team who will confront the Leone Stars of |Sierra Leone in tonight's friendly tie at the Teslim Balogun Stadium, Surulere, Lagos, Nigeria. He told Puis Azubike about his sojourn in England and other issues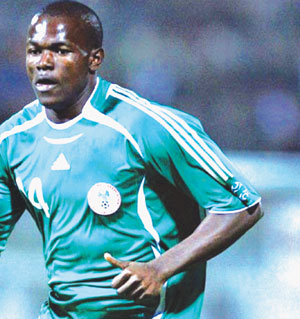 It is good to see you back in the country and it is quite a long time really. So, how do you feel coming back and regrouping again with your teammates in the Super Eagles?
Well, it is nice to be back. It is a pretty new atmosphere here with the new backroom staff-the managers, the technical crew, which is headed by Samson Siasia. I'm glad that the team are getting into shape after the 2010 World Cup in South Africa. At the moment everyone is blending gradually and I believe with the training session we had before today's match, we will now see how it goes from here.
It is a different set of new players but you are familiar with the technical crew?
Yeah. Like you said, it is a bunch of some new players and with a new technical crew as well. Most of all it is a friendly game. Thank goodness that we are playing a friendly game, which will allow the coach to see the new boys how they blend with the old guys in the Eagles.
You are among players that are in blistering form in the English Premier League, how do you feel coming with this kind of form knowing that the spotlight will be on you with the likes of Osaze Odemwingie?
I am satisfied with my performance. Right from my very first day at West Ham till now I thank God for giving me the strength to be playing and scoring goals as a striker. It is not easy putting up this performance English Premier League. I'm satisfied with my performance in the last couple of games. I'm pretty happy and I'll make sure that I continue like that.
So Nigerians should be expecting so much for us in the friendly and some others matches you will have the chance playing for the country?
Yeah, I have always scored anytime I'm with Coach Samson Siasia. I have a goal scoring record under Siasia right from the beginning when I started with the U-20 national team. So I think I will be able to put that performance into play in the Eagles. With him I'm ready to put in my 100 percent. I think other players should have that as at the back of the mind too. We have to work together with the coach to build a good team .
I guess you are excited with the new technical crew?
Yes of course if you have a good relationship with the manager for a very long time. I'm very excited to have him here. Apart from this, he has been a fantastic coach; he is a wonderful person as well. It is a good news for Nigeria and for the Super Eagles as whole.
There is this problem about some professionals not honouring national calls. One name that comes to mind is John Mikel Obi. Nigerians have been asking questions and would want to know what you feel about this trend concerning your friend Mikel?
As a matter of fact I cannot comment on other players not turning up for national team callings. I'm an ambassador of Nigeria. I love playing for my country right from when I was a kid. I love putting on that green and white colours. It is a pride for me anytime I'm called up to come and play for my country. It is an honour and a privilege because I know there are over 140 million people out there that can be in my position. So, I have nothing to say about Mikel.
Remember, before the Beijing 2008 Olympics when you guys were in camp, Mikel failed to honour national call.
Well as a player I'm afraid I can't make any comment about another player. The authorities are there to decide on issues like this. He is a player like myself and I respect Mikel. He is a colleague, a good friend and a team-mate.
Football fans believe today's game against Sierra Leone is a walk in the park for the Super Eagles. How do you rate the Leone Stars considering that you were supposed to take on Guatemala previously?
Actually, this is what we have at hand. We just have to face the fact and try to build our team together which I know the manager; Samson Siasia is going to take an absolute control. It is not going to be the way that everyone thinks it's going to be because we are trying to rebuild and we have a couple of young players in the Eagles. So, we just need to blend together. Football now has changed and there are no more underdogs. I believe we just have to take the game serious.
Do you miss Italy?
No
Have you extended your extended you deal at West Ham or are we going to see you with another club in England?
At the moment, I haven't extended any deal. I'm on loan till the end of the season from Inter Milan which everybody knows.
Are you going to remain at West Ham?
Hopefully, yes.
Why?
Because I love playing in the English Premier League. I want to be there and have playing time and that was why I left Inter Milan. As a matter of fact I'm very happy with my decision because now my hard work is paying off for me. I have scored a couple of goals in some games and it has helped me build my confidence. I hope it is going to continue.
Finally, we can't leave you without talking about West Ham. The team are in a very precarious situation. Your team are battling for relegation after missing out in the Carling Cup final against Arsenal. Nigerians are equally worry about the situation. Are you going to keep fate with West Ham if thing goes wrong or are you going to make a quick move next season?
First of all I want to start with the Carling Cup. It was disappointing for not qualifying for the final having worked very hard,unfortunately we were knocked out. That is football. It is disappointing no doubt but we must move forward. This season has been like that. We score goals and we keep conceding goals…that's football for you.
But you keep conceding goals at odd time…?
We just have to learn from mistakes and make sure we stay in the Premiership which is the biggest objective of the club.
Is Victor Obinna going to remain in West Ham if relegated?
The fact is that I have told you that I am on a one-year loan deal. I am not a full player of West Ham but on a year loan from Inter Milan. But I definitely don't want them to go on relegation. We are working really hard. I believe we deserve to be somewhere up in the mid-table.
How do you see Avram Grant?
He is a good manager. There have been up and down in the club. The rumours regarding taking him out and bringing another coach has brought a lot of instability in the team and has brought so much pressure. With a couple of victories in January, the spirit in the team is now different. It has strengthened the squad and we need to be more patient, work together as a unit and I think we will be out of relegation.
Copyright protected by Digiprove © 2011 P.M.News