It was a narrow escape for Miss Christiana Enechejo Paul, a National Youth Service Corps (NYSC)  member, after she was mistaken for an antelope and shot at by her landlord in the village of Mbube,  Ogoja in northern Cross River State.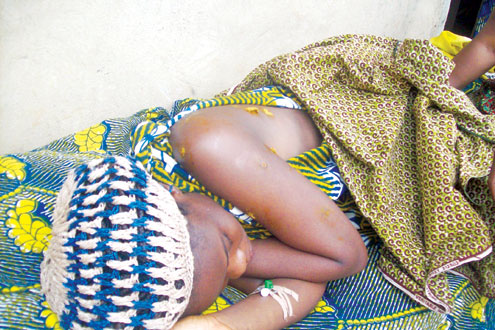 P.M.NEWS gathered yesterday that Miss Enechejo, a graduate of Auchi Polytechnic serving at  Comprehensive College, Mbube, was posted to Bepeh, a neighbouring community where she is doing her  primary assignment by INEC as adhoc staff for the just concluded voter registration exercise.
In Bepeh, she and another female colleague were given a room to share in the home of the village  primary school headmaster as temporary quarters while undertaking the registration exercise.
"I and my colleague were given a room from where we report to the registration point each morning,"  Miss Enechejo told P.M.NEWS.
She said on the morning of the fateful day at about 5:45 a.m., she had gone to the nearby bush at the  back of the house, which is a cassava farm owned by the village headmaster.  While there son of the  headmaster joined her in the bush and soon left in a hurry only for the father to come out with a gun  and fire at her.
"I understand the boy went back to the house to tell the father that he had seen the antelope that was  always coming to eat their cassava in the cassava farm every morning.  But I did not know that that  was what he did, I only heard gun shots and pellets hitting me," she said on her hospital bed.
Miss Enechejo, who was rushed to the Catholic Hospital Moniaya in Igoli, has again been taken back to  Mbube where the pellets are being extracted from her body by a traditional healer.
"She is recovering gradually, the pellets are still buried in her body that is why she is still  shivering," Mrs. Catherine Umoru, elder sister to Miss Enechejo, who is looking after her, told our  correspondent.
Mrs. Umoru said the INEC zonal officer for Ogoja has visited Enechejo.
"We have not been asked to pay any bills yet. We do not know what will happen when she gets well,"  she said.
The police at the Divisional Police Station in Ogoja told P.M.NEWS that the headmaster, whose name  they refused to disclose, and his gun have been transferred to Calabar, the Cross River State capital.
However, the Police Public Relations Officer for the Cross River Police Command, ASP Etim Dickson,  said he was not aware of the incident but reliable sources at the command at Diamond Hill said the  headmaster is with the anti-homicide department. The matter is still being investigated.
Mr. Michael Igini, the INEC Resident Electoral Commissioner, who spoke to our correspondent on phone,  said "the girl is recovering and the pellets are being extracted from her body.
—Emma Una/Calabar