Actress Halima Abubakar is currently reaping the fruits of her labour as one of the most sought-after  Nollywood actresses. This, however,  would not have become a reality if she called it quits out of  frustration some years ago.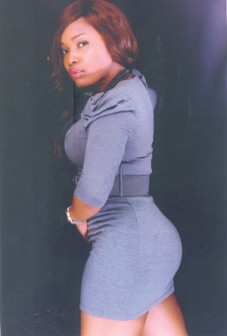 No doubt, Halima has paid the price of being a celebrity. She has experienced the good, the bad and  the ugly moments, but her perseverance and never-say-die spirit has paid off after all.
The Kogi State-born actress, who attributed her success to the support of God, said she would have  quit acting some years ago, no thanks to some scandals that almost threw her off balance.
When asked if there has been any scandal that really hit her hard as an actress, Halima said: "A lot.  Those that almost threw me off balance that actually made me want to quit. In fact, I did, but someone  called me back and advised me not to allow all that to turn me off. Now I'm stronger and maturing with  time."
A lot of rumours have trailed Halima's career. She was rumoured to have dated former Super Eagles  defender, Ifeanyi Udeze, after the footballer bought a car and also rented a three bedroom flat for  her.
She was also rumoured to have engaged fellow actress, Tonto Dike, in a brawl. That is not all. She had  been rumoured to been dating a Lebanese and of course, Moses Ewang, a Nollywood director, who  allegedly fought a man in public because of her.
But she believes these are some of the prices she would pay for stardom. "Everybody knows Halima is a  hardworking girl. And I acquired all I have through personal efforts, nobody bought anything for me. I  don't have anything with Ifeanyi Udeze. If you know him, you can ask him if he knows me," she said.
This cute actress added that she doesn't know any Lebanese, let alone dating him. She acknowledged  having a relationship, but claimed that the man in question is not a Lebanese as is being rumoured.
"And for Moses Ewang, he is my director for goodness sake. He is also my very good friend. Or is it a  crime to have a man as your best friend? I have known him for close to 11 years. He had been giving me  roles even when others failed me. I don't know anything about him fighting a man because of me. But  like I said, I'm used to such cheap lies," said Halima.
Meanwhile, in view of these allegations among others, Halima, who is in her 20s, disclosed that top on  her new year resolutions is to stop being too open-minded to people. "If it were to be my former self  between 2006 and 2008, a lot of people will not talk to me because I was into myself alone. But when I  became open to people, they took advantage of me. Now, I am back to my shell again," she concluded
—Bayo Adetu
Copyright protected by Digiprove © 2011 P.M.News