Coach of Leone Stars, Christian Cole has declared that his side were a better team in yesterday's international friendly match against the Super Eagles of Nigeria.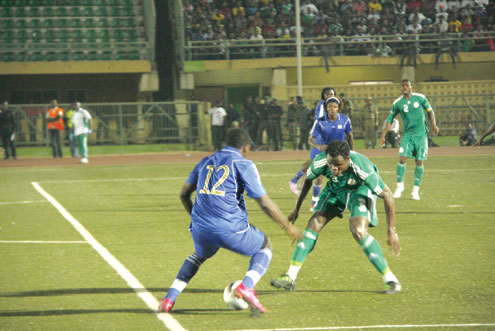 Though the Nigerian team, which paraded some established foreign- based stars mixed with the best players in the Nigeria Premier League, defeated a youthful team from Sierra Leone in a match that ended 2-1 at the Teslim Balogun Stadium, Surulere, Lagos, Nigeria. But, Cole said he and his boys were leaving Nigeria with their heads high and they are proud of their performance against a Nigerian team who are seen as one of the best in Africa.
"I'm proud of what my team played against the Eagles especially in the second half of the friendly tie. The pressure was on our hosts because they were playing in the front of their home fans under a new coach," said Cole, who was in charge of the Leone Stars in the last two matches of the African Cup of Nations qualifiers.
The former Mighty Blackpool of Sierra Leone coach noted that football has gone beyond the athletic football that Nigerian Eagles played during yesterday's game, adding that the star-studded Eagles underrated his rookies and almost paid dearly for this.
He said: "The cheering from the Lagos fans showed that my team outplayed the Eagles in the match. We used the first half to study the style of the Nigerians and by the time the second half resumed, my boys took the game to the Eagles, which resulted in a beautiful goal from Mohammed Bangura, who plays in Tunisia.
"The referee was not really fair to us at all. I believe if we play the match at a neutral ground, we'll beat the Eagles. I cannot see Joseph Yobo and Taye Taiwo in the match. Osase Odemwingie did not show his spectacular display we used to watch in the English Premier League. That shows that something is still lacking in the Nigerian team.
"Football is all about team work and that was what our team showed in the friendly game. This friendly has given us the hope that our next match against Niger Republic will be a good outing for us.
—Taiwo  Adelu
Copyright protected by Digiprove © 2011 P.M.News