Top fuji music act, Sule Alao Malaika, has been installed as the Aare Oniko of Lagos.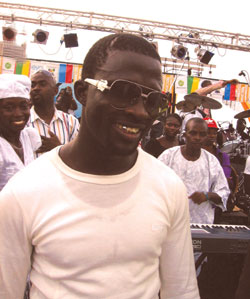 P.M.Entertainment learnt that the memorable event was performed by the Akinrogun Oniko of Lagos in the  presence of Bajulu of Lagos, Alagbeji of Lagos, Chief Sikiru Onigemo, Chief A. Oyekan, the Bajulaiye  of Lagos and other prominent Lagos White Cap chiefs.
The installation was also attended by King Wasiu Ayinde Marshal, Wasiu Alabi Pasuma and others.
Speaking on the forthcoming St. Valentine's Day, the new Lagos chief, who will be a year older on 15  February, 2011, said the day is just like any other day to him and so he will use the oppurtunity of  his birthday eve to thrill his fans at Alesh Hotel International, Ajah, Lagos, to say a big 'thank  you' to them.
Copyright protected by Digiprove © 2011 P.M.News