The Lagos Water Corporation has completed a Mini Waterworks in Ikorodu area of Lagos State, Southwest  Nigeria. The mini water works will supply two million gallons of water per day to over 10 communities  in the area.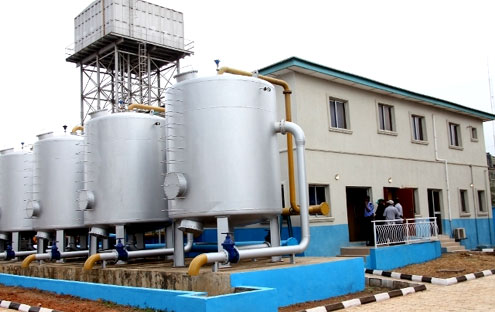 Governor Babatunde Fashola commissioned the project at the weekend. The Ikorodu Mini Water Works is  the eighth of the 15 mini waterworks the state government promised to build across the state.
General Manager, Lagos Water Corporation, Mrs Ayodele Fatusin, whose corporation handled the project  said the importance of potable water as a basic amenity in any community cannot be over-emphasised.
"It is with this in mind that the present administration on assuming office embarked on the  construction of 15 new waterworks throughout the state. Out of the 15 waterworks, this is the eighth  that is being commissioned in the last 12 months,' she said.
She commended the administration for investing heavily in electricity generation through the IPP in  Akute to boost water production at the main waterworks at Iju and Adiyan instead of relying on the  epileptic power supply by the Power Holding Company of Nigeria, PHCN.
Fatusin said with the commissioning of the Ikorodu Mini Waterworks, the corporation had added another  two million gallons per day water production plant with a five-kilometre distribution network to over  200 houses.
Fatusin disclosed that the already commissioned mini waterworks include the Magodo, Mende, Epe Agric,  Ajegunle, Ajangbadi, Isheri Osun, Meiran and the Ikorodu Mini Waterworks.
The General Manager said the Ikorodu Mini Waterworks would service communities such as Mabadeje,  Bajoko Olowu, Atere Ololo, Lowa Estate, Igbo Oluwo, Ayangburen Road, Lagos Road, General Hospital,  among others, adding that it would also serve the old reticulation in Ikorodu.
"The state is embarking on the supply of potable water from Ota-Ikosi Waterworks under construction  through Isiwu Township," she stated.
Commissioning the water project at the weekend, Fashola said nine out of the 15 mini water works had  been completed, adding that the state government would not abandon any project it started.
"This is part of the short-term water project we promised in 2007. We promised to address the problem  of water. That is why we built the Iju-Adiyan Water works that will supply 110 million gallons of  water per day at optimal capacity.
"Before we moved in to provide 12.5 mega watts Independent Power Plant, IPP, to power the Iju-Adiyan  Water Station, the station used to supply 40 million gallons of water per day but it now supply 105  million gallons of water per day," he stated.
The governor added that the station now enjoyed 24 hours uninterrupted power supply which had helped  to boost water supply, saying that the water works is now operating at optimum capacity.
Fashola said that the 15 mini water works being planned by his administration would supply 30 million  gallons per day, with two million gallons per each mini water works.
Copyright protected by Digiprove © 2011 P.M.News