Ikorodu, Lagos State, South West Nigeria was agog at the weekend when Governor Babatunde Fashola  handed over   rural electrification projects.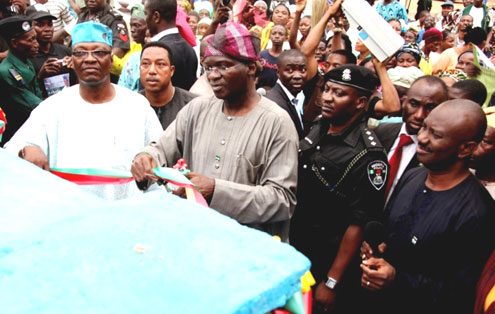 Communities in Ijede area of Ikorodu were provided with 500 KVA transformers to boost power supply in  the area.  The communities are Surulere and Olorunsogo.
Fashola had gone to the area with his campaign machinery and officials of the state government that  included the Commissioner for Rural Development, Prince Lanre Balogun; Special Adviser on Health, Mr.  Toyin Amzat, among others.
At Olorunsogo area where a 500 KVA transformer was commissioned, several residents trooped out to meet  the governor with songs and praise.
Commissioner for Rural Development, Balogun said the transformer was meant to boost power supply and  prevent overloading.
Fashola told the crowd that the state government did not import transformers again as it now  manufactures the equipment locally.
"The Federal Government is not doing anything.  We are not making money from the transformers but we  give them out free.  The Federal Government said it would improve power supply in the country since  four years ago and nothing had been done since.
"We did not promise to give you light, but we are doing it," he said and called on the people to be  ready to monitor and defend their votes.
A larger crowd thronged the venue of the handover of the rural electrification project, as an Agere  masquerade also thrilled the visitors.
The governor urged the people to be vigilant by ensuring that when the Independent National Electoral  Commission, INEC, display the voters' cards, they should go there and check to ensure that their names  were not replaced with that of 'Mike Tyson.'
Fashola promised to deliver more rural projects to rural communities so that they could enjoy the  dividends of democracy.
Copyright protected by Digiprove © 2011 P.M.News