Coach John Obuh shocked the Synagogue, Church of All Nations when he dropped Sani Emmanuel, FIFA's second best player at Nigeria 2009 U-17 World Cup from the Flying Eagles squad for next month's U-20 African Youth Championship.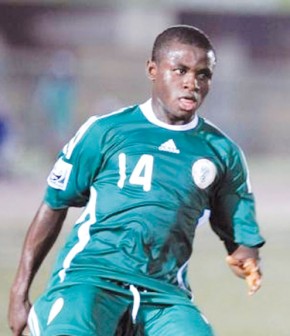 The Flying Eagles jet out of Nigeria yesterday for a training camp in Libya and Turkey for their final preparation, but the celebrated former Eaglet was shockingly left out.
Coach Obuh, who also dropped the team's skipper, Fortune Chukwudi due to passport problems, refused to comment on why he dropped Emmanuel, a prolific striker discovered and groomed by the founder of the Synagogue, Prophet Temitope Joshua.
It would be recalled that Emmanuel was one of the revelations of the 2009 FIFA U-17 World Cup held in Nigeria.
When P.M.Sports contacted the image maker of Nigeria Football Federation, NFF, Demola Olajire on the dropping of Emmanuel, who had an impressive performance at the U-17 World Cup where he won the Golden Ball and Silver Shoe, he said: "I don't know the reason Obuh left Emmanuel behind. I think he will be in the best position to react to this."
When P.M.Sports called the Media Department of the Synagogue last night and early today, one of the official, Nelson Lawal was not available but a lady spoke to us on the development.
She said: Well, Emmanuel is not around at the moment. Lawal and Chris are busy but they would react to your question later."
The lady also hinted that Emmanuel's foster father and mentor, Prophet Joshua was not available to comment on the issue. Emmanuel was nominated for CAF's prestigious Young African Player Of The Year award last year.
Meanwhile, the Flying Eagles are currently at the Al-Wahat Tourist Hotel in Benghazi, Libya's second city, ahead of a two-match friendly with that country's U-20 team today and Wednesday this week.
Today's game will kick off at 6pm Libyan time (5pm Nigeria time) on the artificial turf of the Hugo Chavez Stadium in Benghazi, venue where the national senior team, then Green Eagles, played Ethiopia, Algeria and Zambia in Group B of the 1982 African Cup of Nations finals. It is also the venue where the Flying Eagles will play reigning champions of the world, Ghana, Cameroon and The Gambia in Group B of this year's AYC.
The contingent of 25 players and nine officials are scheduled to arrive in Turkey on Thursday, 17 February, where they will be joined by four foreign-based players.
The team will spend 25 days and play some friendly matches in Antalya before jetting back to Tripoli on 14 March for the continental championship. The semi finalists at the AYC in Libya would represent Africa in this year's FIFA U-20 WYC.
—Tunde Oyedele