There were some surprises at the 53rd annual Grammy Awards held last night at the Staples Centre, Los Angeles, USA. Everybody expected Eminem to take Album of the Year but he did not. Recovery was the year's best-selling album and one of its most critically acclaimed. And since Eminem had lost in that marquee category twice before (to Steely Dan and Norah Jones), he was overdue. But, as you may know by now, he lost again, this time to Arcade Fire's The Suburbs.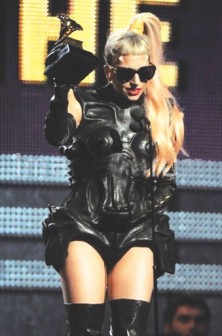 The Suburbs was also a number one album and was also critically admired. But when it lost for Best Alternative Music Album early in the evening to the Black Keys' Brothers, its chances of upsetting Eminem for Album of the Year appeared to be next to nil. The Black Keys ("Tighten Up) also beat Arcade Fire ("Ready To Start") in the category of Best Rock Performance by a Duo or Group with Vocals. But then Arcade Fire turned around and won the big one. You just never know with Grammy voters.
The first sign that Eminem's sweep might not pan out came when the Jay-Z/Alicia Keys smash "Empire State Of Mind" beat Eminem's collabo with Rihanna, "Love The Way You Lie," for Best Rap/Sung Performance and Best Rap Song. "Empire State Of Mind" was an instant classic, but everyone figured this was going to be Eminem's year. Usually that means a sweep. In the end, Eminem's "sweep" consisted of just two awards, the same number he won last year for his so-so album, Relapse.
Eminem has won 13 Grammys, including a category-leading five awards for Best Rap Album. But after 12 years of stardom, he has yet to win in any of the "Big Four" categories-Album, Record or Song of the Year or Best New Artist. I'm starting to wonder: What's it going to take?
One of the night's other biggest shockers was Esperanza Spalding taking Best New Artist. Few had even heard of the talented jazz musician before the nominations were announced on Dec. 1. Most observers figured that Spalding's nomination would be its own reward; her ticket to the Grammy stage. I expected Drake to take the award, but Mumford & Sons, Florence + the Machine and Justin Bieber also had their supporters. In the end, the tightness of the race, and the lack of a clear-cut front-runner, may have enabled Spalding to squeak through. This may have been one of those years when all five candidates drew roughly 20 percent of the vote.
"I take this honor to heart so sincerely and I'll do my damnedest to make great music for all of you. It's such an honor and God bless," was Spalding's shocked response.
Herbie Hancock also beat Lady Gaga and Beyonce. Hancock's all-star remake of John Lennon's "Imagine" beat three megahits ("California Gurls," "Airplanes" and "Telephone") for Best Pop Collaboration With Vocals. I figured the combined diva power of Lady Gaga and Beyonce on "Telephone" would take the award, but the voters opted for Hancock's remake, which featured P!nk, India.Arie, Seal, Konono No. 1, Jeff Beck and Oumou Sangare. (Hancock won a second Grammy for "A Change Is Gonna Come," another track from The Imagine Project, which took Best Improvised Jazz Solo.)
Paul McCartney won his first Grammy in 31 years. The ex-Beatle won for Best Solo Rock Performance for "Helter Skelter," a track from his live album Good Evening New York City. It was McCartney's first Grammy since his band Wings won for Best Rock Instrumental Performance in 1979.