Super Eagles and Chelsea Football Club of England midfielder, John Mikel Obi has played his way into "Ban United" Football 'squad'.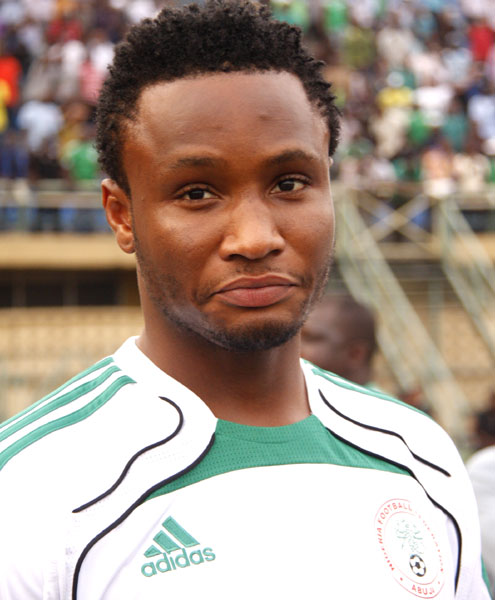 The nickname was coined by News Of The World Newspaper for English Premier League players who have the highest number of driving convictions for motoring offences including speeding, running red lights and drink-driving.
The former Lyn Oslo of Norway player and nine other Premier League players with the last coming from Ipswich in the lower division of the Premier League make up the ignoble squad.
The players, especially Mikel risk a ban of 15 months.
Other indicted players, their time of violating the traffic laws and  fines are listed as follows: Manchester City's goalkeeper, Shay Given was a fined 60 pounds for over speeding back in September 2010; Manchester United defender, Wes Brown 6-month ban for running red light in February 2009; Sunderland's Anton Ferdinand 6-month ban for using mobile phone whilst driving back in October 2010; Ledley King of Tottenham Hotspurs 56-day ban for over speeding in December 2010; Mikel's teammate at Chelsea and England's left back, Ashley Cole 4-month ban speeding ban early January 2010.
Also playing his way into the team is South Africa and Tottenham Hotspurs new signing, Steven Piennar who faces a one-year ban for drink driving; West ham United's Kieron Dyer 6-month ban for over speeding in September 2010 and former African Footballer Of The Year, Chelsea and Cote d'Ivoire forward, Didier Drogba fined 400 pounds for driving without valid UK license in March 2010.
Another player who made the list is Jermain Defoe of Tottenham Hotspurs who faces a 6-month ban for over speeding in January 2009, while the last is Grant Leadbitter of Ipswich who bagged a 14-day ban for speed driving in August 2009.
In a statement made available by insurance firm elephant.co.uk, it shows that the shamed mega-rich sportsmen are part of the analysis of motor policies covering three million convicted drivers.
The findings also revealed 28.9% of professional footballers-almost one in three have paid the penalty flouting traffic rules.
Cole was banned in January last year for speeding at 104mph in a 50mph zone in his Lamborghini Gallardo.
Politicians also appear in the Top Ten of drivers with the highest points totals, along with surgeons, salesmen and cameramen.
—Adebobola Alawode
Copyright protected by Digiprove © 2011 P.M.News