Remarks at the Party Colloquium held at the ThisDay Dome in Abuja Wednesday, February 16, 2011 Courtesies: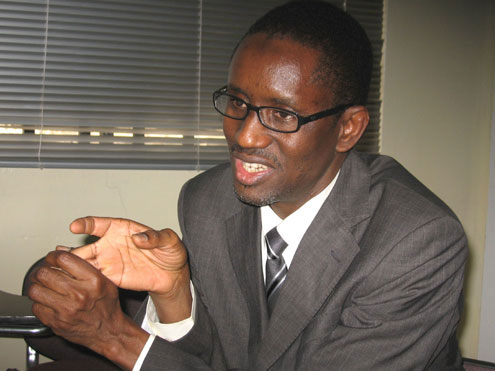 Ladies and gentlemen, brothers and sisters, it gives me great pleasure to welcome you all to this important party colloquium. Today, a new journey of renewal has started in our country.  From the four corners of this great nation – the North, South, East, and West, the work to make Nigeria great again has begun.
We must not lose the significance that today's event is occurring against the fascinating international background of momentous political changes taking place in the north of our region– from Tunisia, through Egypt, to Algeria and Yemen.
In all these countries, young people are kicking against enthroned autocracies that have pinned their nations down for decades; they are tossing off decades of oppression and failed forms of governance.  In an exciting display of people's power, these young men and women are demanding, negotiating, and securing democracy through the slogan of change.
As we are all gathered here, in the service of love, the service of our people, and the important service of restarting the agenda that makes democracy meaningful in the lives of citizens, let us put one point in mind: if we fail to urgently realise the vision of a modern Nigeria, the echoes of currently muted, but potentially destabilizing, change will soon consume our land.
Great members of the ACN family, this is the season of Change, and its sweet scent is in the air. It is expressed in the image of our young people, and their demand that the business of governance can no longer be business as usual.
Seventy per cent of our citizens are under the age of 30.  They are active, restless, and curious. 43 million of them are daily exploring the neural of the Internet as a communication and social networking medium.  Yet the half-century of our nation's history have loudly left them behind through failure of governance, failure of economic management, and a failure of the national social contract.
Historically, in an election year, these young men and women would have responded in apathy, walking off in anger, disgust, and scorn at the electoral process. Guess what, ladies and Gentlemen? Of the 66 million registered voters by INEC, preliminary reports suggest that at least 46 million are in the demography of 35 years and below.
Change has come to our doorsteps, the sacrificial lamb is already in revolt, and while the other parties cannot grasp the significance of this silent revolution, our party—the Action Congress of Nigeria, must help advance it to the next logical stage.
It has become fashionable for everyone to talk mechanically about change in the country today, even those who have inflicted the worst injury to our treasury, and our best values speak glibly about change. But for us, the distinction is clear as daylight; the change we talk about begins with a leadership that is transparent, accountable, competent, experienced, and virile.
Such a leadership is needed to create a united, modern, secured, and just society that will meet the demands of the 21st century. Above all, however, such a leadership must answer the call to address three fundamental ills that plague the Nigerian society today: corruption, insecurity, and economic failure.  As these ills are tackled, the economic and social sectors will be revitalized such that the chronic problems of power, infrastructure, social amenities, and unemployment get the true attention they deserve.
So, ladies and gentlemen, while the citizens of other countries are protesting dictatorship in their countries, in Nigeria let us act sensibly to take advantage of the fact that we have the opportunity to affect change every four years through the ballot.
In the face of its shoddy report card from over two decades of abysmal failure at governance, the PDP can at least be self-respecting to excuse itself from the dignified gathering of the true apostles of change. And from the opposition parties, since the ACN has exhibited evidence of competent leadership in the four states it is administering, we clearly earn the historic responsibility of leading the mission of change. They are all here today: my friends and brothers Rauf Aregbesola of Osun State; Kayode Fayemi of Ekiti State; Adams Oshiomole of Edo; and Babatunde Fashola of Lagos state. Thank you gentlemen for the great work you are doing for our country and for our party. Our challenge now is to reproduce that example of competent leadership at the centre when we take over the reins of power and form the next government come May 29.
Let me now elaborate a little bit on our vision of a new Nigeria. First of all, our administration will be guided by an unalloyed loyalty to party principles and programmes. Our platform is a social justice compact targeted to the transformation and development of the nation on the ethos of distributive justice.
The cardinal principles of the administration we shall run will be defined by a keen sense of humility in government, a torching sense of compassion, and a clear sense of integrity in government. The current asymmetric ratio of 75% recurrent budget allocations over 25% capital allocations will become a thing of the past. This odd priority in budget making does not support true development, and only fuels corruption.
My dear compatriots, the work to make Nigeria work again will not be a practice reserved for arm-chair crystal gazers. Like all enterprises devoted to social regeneration, it is going to be one hard job that demands of us all, young and old, to roll up our sleeves.  The cancer of corruption has terribly affected the inner soul of our social, political, and economic life, and it now almost singularly constitutes a major disabling factor on how to rebuild our nation.
Unless we actively disable the capacity of corruption to regenerate, through a cocktail of excellent laws, professional enforcement engagements, and a vigorous public education on its dangers to our social health, no governance policy will work here, however excellent in planning and execution.
Distinguished members of our party, it ultimately boils down to leadership. Leadership matters. Global testimony indicates that nations that do well and progress have had to invest heavily in the character of their leaders, as well as in the leadership skills of their people.  They have also needed to invest in the integrity and ethical standards of their institutions. The ACN must take these matters serious and work to reverse the leadership and integrity deficits that characterize many departments of our nation's life.   What we need today is a transformational leadership model that shows courage in making difficult decisions with respect to issues that has plagued the nation.
I am not talking of an abstraction here, we have a vivid example from Lagos where my good friend and classmate at law school, Babatunde Raji Fashola, is redefining the concept of governance in the service of the people.  Many in this gathering will remember what we all used to say in the past about the security situation in Lagos. Today, with even a bigger population and competing spending priorities to deal with, Mr. Fashola has transformed Lagos into perhaps the safest city in Nigeria. That is what we call governance.
That is what an ACN administration that controls the federal government will bring to all Nigerians.  Imagine what sense of hope will radiate across the land when we initiate our one million houses a year, and through this scheme alone, open the doors for 30 million jobs? Imagine what we will do in the area of arts and culture with the creation of a national endowment of the arts that will empower our young men and women to be productively engaged through this country's first structured cultural entrepreneurial scheme.
Now that we all know that the ruling party has completely lost the will, and is incapable of summoning the vision of tackling the power sector challenges, it is important to share our broad thoughts on how this priority sector is located at the heart of our economic development programme.
How can a country like Egypt with 80 million people be able to generate 25,000 Giga watts of power; and South Africa with a population of 35 million generate 40,000 megawatts while Nigeria, the presumed leader of the region, can only generate 3,000 megawatts of power.
Our ACN administration will move promptly to diversify the energy mix and invest in decentralized renewable energy such as wind, solar and biomass especially in rural areas, with limited grid access.
We will also provide fiscal incentives for private developers by employing clean technologies in areas like coal power generation. Through a vigorous consumer education programme, we shall also promote the most efficient use of energy.
The same is true of our agriculture, the state of our infrastructure that is currently in the most abject condition, and, above all, the prostrate human capital sector of our country.
At the agricultural front, our food security policy proposes to ensure that appropriate attention is paid to every element in the vital food supply chain – from the field to the table- which includes primary production, extension and education programmes, post-harvest handling and farm produce haulage, preservation, storage, processing, and marketing as well as rural development.
We are committed to evolving a system of providing an egg and a glass of fruit juice or one glass of fresh milk to each child in school by 2014, in order to increase the protein and vitamin intake of our leaders of tomorrow.  This programme will have the multiplier effect of encouraging increased production of these food items with attendant manufacturing and service sector activities that, in turn, will create wealth and jobs.
The key word for us on the social and economic fronts is distributive justice and we shall erect it as the central philosophy of our administration. A country determined to compete in a 21st century marked by globalization, fiercely competing markets, jobs opportunities, and rapid technological advances, must have commensurate infrastructure to drive its vision.  Now is the time, and urgency is the word, to address decades of underinvestment, policy incoherence and a failure to appreciate the crucial role of modern infrastructure in economic development and social cohesion that has put Nigeria in the class of failures.
A healthy, well-educated, and content citizenry will be at the very heart of the ACN national development administration. To this extent, the various segments of human capital development that include health, education, women and gender issues, the youth, the physically-challenged, and social security would receive principal attention.
Ladies and Gentlemen, despite the pains and the stress of our land, this is the place we still proudly call home. Fifty years of failed leadership and corruption may have conspired to deny the home of the world's largest black nation its place of honour and pride, but the future of our country can still be written in bright, warm, colours.
I see a great future ahead of our nation; in that future we must all design our dreams. My own dream of Nigeria's future is a nation that honors and deeply cares for its citizens. It is the land of inherited blemish that we make whole again. It is a land of united citizens that finally takes its leadership place in the comity of nations.
It is possible, my colleagues! God has a purpose of change and progress for Nigeria.  A New Nigeria is truly possible.
Thank you all, God bless our nation, God Bless Nigeria. Thank you. Thank you all.
-Mallam Nuhu Ribadu, Presidential Candidate of the Action Congress of Nigeria (ACN)
Copyright protected by Digiprove © 2011 P.M.News