Chairman of Enyimba, Felix Anyansi Agwu has played down Enyimba's 1-0 victory over Heartland in the Oriental derby decided non Wednesday at the Aba Township Stadium.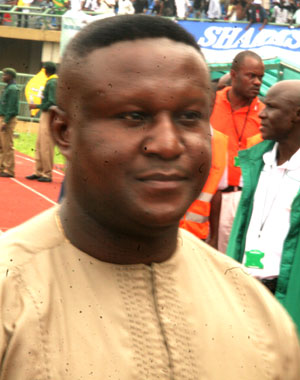 The chairmn of Enyimba FC, who is also a board member of Nigeria Football Federation, NFF said that there was nothing spectacular about the victory as the Owerri side were just another Premier League club.
The former African Champions grabbed their first win in five years over Heartland in the topflight through Captain Josiah Maduabuchi.
Enyimba's last win over their southeastern rivals came on June 7, 2006 when they thrashed Heartland by three-nil.
From the outset of the game, it was apparent that Enyimba had the intention of picking all points, as they attacked the goal of Heartland in numbers with Maduabuchi playing the orchestra for the Peoples Elephant.
And true to Enyimba's form guide in their last five games in the NPL in which they have lost just once, the home side took the lead.
In the fifth minute, a low free kick from the left channel of Heartland's goal was struck tamely by John Agbawu into the path of Maduabuchi inside the six yard box and he dispatched the ball hard and low past goalkeeper Austin Brown.
The Naze Millionaires showed no sign of a fight back thereafter, as Enyimba continued to run them ragged through the attacking forays of Maduabuchi, Agbawu, Philip Auta and Victor Barnabas.
Agbawu, playing from the left wing for Enyimba, shot at goal after receiving a pass from Auta just on the edge of Heartland's box on 18 minutes but his effort rolled past the front of goal.
On 22 minutes, Enyimba's high offside line was nearly made to pay when Heartland forward, Bello Kofarmata, chased a loose ball before goalkeeper John Lawrence was off his line to catch the ball.
But four minutes later, Agbawu plays Auta through on goal and the former Kwara United man dribbled inside of heartland's right-back, Chibuzor Okonkwo, and shot straight at the side of the net.
Just two minutes to the half hour mark, Enyimba continued to pin back Heartland, as David Tyavkase's shot from 25 yards failed to cause Brown any trouble.
The four-man backline of Heartland that include captain Chinedu Efugh, Emmanuel Olowo, Okonkwo and Benjamin Francis continued to face torrid times from the offensive approach of Enyimba.
Just nine minutes to the break, Temitope Olusesi's header from Bello Kofarmata's short cross was saved by Lawrence before Kofarmata followed up with another shot on 38 minutes.
Heartland came back from the locker room with more purpose and claimed 54 per cent of the possession but failed to breach the backline of Enyimba.