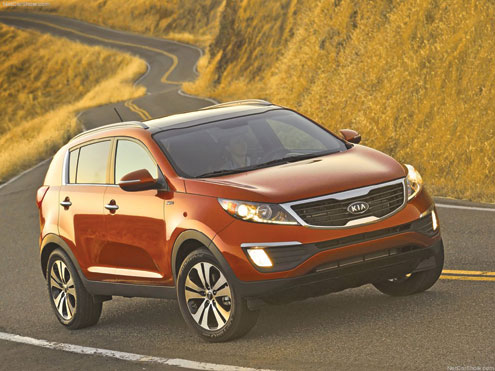 Dana Motors, distributors of Kia brand of vehicles has launched the new Kia Sportage into the Nigerian auto market. The new Sportage was presented to members of the Nigerian Motoring Press for a test drive along Oshodi-Apapa Expressway last Saturday.
The new Sporatge comes in different attractive colours which would make it irresistible to car lovers.
The new Sportage is designed to compete with likes of Toyota RAV4, Honda CRV among other Sport Utility Vehicles in that segment, and the new Sportage has an added advantage of better pricing.
The Kia Sportage is a compact Sports Utility Vehicle which stole the hearts of many auto lovers when it was first released in 2005. Still waxing stronger, its latest model, the new Sportage, has been re-defined with lots of improved features like fuel economy, better styling, and enhanced driving. With the new Sportage, handling is secure and a smooth ride is guaranteed and generally well accepted.
The Kia Sportage is endowed with a unique, modern and attractive body. Its curvaceous outlook gives it a strong visual presence. The car comes in different models of the base LX or EX trim, along with optional all-wheel drive.
Standard features on all LX models include 16-inch wheels, multi-reflector headlamps, roof rails, front and rear towing hooks, and a front-end skid plate. Fog lights, and heated side mirrors, while the Sport Package, available on LX V-6 models, comes with fog lights, a leather steering wheel and shift knob, a rear spoiler, rear cargo cover, standard cruise control, and 17-inch alloy wheels. The new SUV comes with gas-filled shock absorbers built at the rear, and has stabilizer bars at both ends. It comes with new grille design, new headlights and fog lights, and new alloy wheels.
Inside, the Kia Sportage is very attractive with a comfortable and roomy interior, for extreme comfort for passengers. The car offers an interior that easily seats five adults (driver inclusive), with reasonable seating comfort for all. The seats come in options of leather and cloth. The centre console and dash board have a sleek and highly functional look. It comprises a Bose Stereo, while USB jacks and MP3 playback capabilities have been made a standard. It also comes with power seating and dual temperature controls.
Sportage is built with two separate engines. The first comes with a fuel-efficient 2.0-litre four-cylinder engine with Continuously Variable Valve Timing (CVVT) technology and a respectable 166 horsepower; while the second engine is built with a 2.4-litre V-6 engine with 173 horsepower.
But Dana Motors said it has settled with the 2.0 litre engine variant as the Nigerian specification.