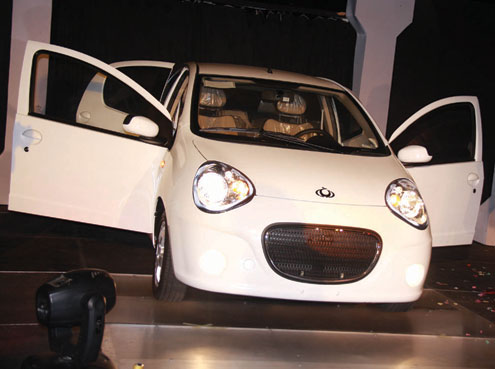 The initial acclaim was almost universal as car freaks, sporting different shades and quality of denim wandered among a party of balloons, lights, music and humour at the GET Arena, Lekki, Lagos, Nigeria recently, poked, prodded and peered into the new Geely Panda.
It is well built, spacious, comfortable and has an excellent engine and slick gearbox, but whether the Panda will sell in the numbers Hyra's honcho is hoping – well only time will tell.
The Geely Panda judging by the engine size 1.3 litre is the biggest in its segment. It's  competitors are usually cars of 700cc to 1.0 litre engine thereby placing the Panda in a class of its own within the segment..
Panda comes with array of attractive features including smart remote control system, remote control opening of truck, air conditioning system, CD player, ABS+EBD to mention just a few.
Safetywise, the design of the Panda is based on the standards of C-NCAP four star assessment and also meets the requirements of U-NCAP safety regulations. Panda has over eleven storage spaces which are designed at the right places. The front suspension is the Mcpherson independent type with an auxiliary frame which is used in compact cars.
The 1.3 litre Panda has been positioned as the most affordable car in the market at the moment. It is 3598mm long, has a wheelbase of 2340mm and according to manufacturers claims, it will take 14 seconds to get from zero to 100km/h and will reach a top speed of 155km/h.
Anyway, Mr Seyi Oyinlola, Hyra Motors boss plainly loves the Panda:  "No micro mini car in the country matches the new Panda. This is one of the best cars to have come out of China. It will definitely start a revolution in the Nigerian auto industry," he said. The Panda defies convention and offers a world of possibilities for the young at heart and people with a sense of adventure."
The price of the Panda starts from N1.29million. But for what you pay, you also get a lot of automobile. By coming out with the Panda, Geely heralds a new chapter in its history. They now build cars that you want, not cars you feel compelled to buy. The bar on fun cars has been raised, now it's the Koreans who have to catch up.