The desperation of Nigerian ladies for husbands has become alarming, P.M.NEWS investigation has revealed. Some are so desperate that they even offer to foot the wedding bill if the men agree to marry them.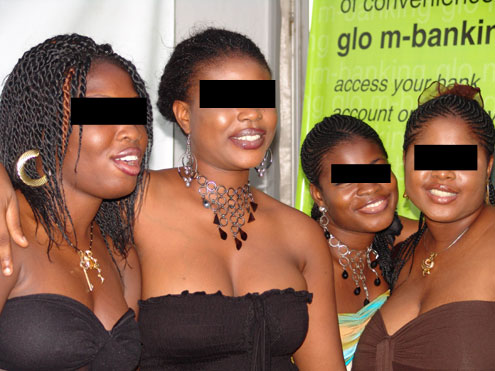 But a lot of factors have resulted in the notion that there are fewer men willing to tie the nuptial knot.
Investigation reveals that the desperate ladies, who are between 25 and 40 and have not seen any man to call their own are ready to do anything including wooing men and7 going spiritual just to get married.
Some of these ladies register with social internet sites with their photographs and data and detailing the kind of men they would want for a husband.
They also take advantage of radio phone-in programmes to give details of their height, weight, genotype, occupation, age and skin colour and the type of men they want to marry.
Latching on to this situation, match making agents are daily springing up in several parts of Lagos State.

P.M.NEWS learnt that after successful registration, the women are directed to female seekers who also come to register for wives.
It has also been revealed that some of these women, at a stage in the pursuit of a husband,  do not care about the wealth of a man as long as the man has a vision or bright prospects.
"It does not matter if the man cannot meet this vision. All that matters is the fact that the man has plans for the future," Mr. Victor Sunday, a marriage agent and counsellor in Lagos told P.M.NEWS.
According to Sunday, more than 40 marriage agents have opened offices in the state between last year and now.
He further told P.M.NEWS that it has become necessary for counsellors to help the ladies seeking husbands because most of them would not be bold enough to 'toast a man'.
"You know society frowns at this. Most times, the impression some men would have of ladies who approach them for marriage is that the ladies are prostitutes. They forget to realise that just as they are human beings with emotions, so are the ladies.
"In my five years on this job, I have come to realise that 90 per cent of women admire men at a point in time but not up to five per cent of them can summon the courage to approach the man for fear of the presumed wrong signals they would be sending out," he added.
He explained that since he began as a marriage agent, he had successfully got husbands for several women both within Lagos and other states.
But within the last two years, the demand for husbands by mature women has doubled to the extent that each week, an average of 15 women go to register with him as against the two or three that he got weekly the first two years he went into the business.
"If I get 20 people in a week, be sure that 15 would be women.
"Mine is not a religious thing. I am strictly doing it for business," he explained while putting the total cost of registration at N10, 000 for the women, saying that this expires every four months.
The men pay half that amount for the same registration.
"If you can pay this, be ready to get a man, but the challenge would be whether the man would like you," he added.
If the man does not like the woman, she is redirected to somebody else while another lady is sent to the man.
Akpos, a 35-year old female seeker who this reporter met in the office, said he only registered three weeks ago.
However, within this period, he has met 12 different ladies.
Thinking our reporter was on a similar mission, Akpos opened up by telling him that he is even thinking of not getting serious about marrying yet.
"Bros, this thing is sweet. Out of the 12 girls that have reached me through the agent, I have slept with five. Two even told me they would not mind even if I want them to get pregnant before we get married," he said gleefully.
Asked how the agents operate, he said after registration, they would take the phone number of the man, which they make available to the women.
A journalist (name withheld) who met a woman in such circumstance told P.M.NEWS that the woman, the daughter of a retired Army General, offered him N2 million and promised to foot the wedding bills the first day they met..
"But I refused because the lady, based in Abuja, is 11 years older than me," the journalist said, adding rather humorously, "why should I marry a grandmother who will boss me around at home?"
Ikem Bernice, a businessman in Ikotun while confirming that women were desperate for husbands, said it is common in churches.
"You need to see their reaction when a pastor declares that those seeking husbands would get before the year ends. I was at a vigil in my church when the pastor asked that those who desired husbands should pray for the men to be available.
"I couldn't bear what I was hearing from a lady beside me. She mentioned a man's name and was praying that he should forget a particular lady and concentrate on her.
"I had to stop praying and watch the ladies in the church who became uncontrollable in their prayers for husbands to come their way at all costs. It was then I knew that men are scarce."
Reason for the desperation? An unmarried woman who only gave her name as May, posted on the internet this reason: "For us Nigerian women, there is a huge pressure to tie the knot.
"Post twenty-five annum, an unmarried status often calls for expression of concern from family, friends and sometimes even 'kind' strangers.
"This concern can be terribly annoying and in the case that one is single and desperately searching for a partner, distressing."
Jerome Codjo-Onipede, who teaches about marriage through various singles programmes, said women could become desperate due to societal values that tend to have more respect for married women than single women, the thought of not being able to have children after a certain age and the need for companion.
"But she doesn't have an excuse to stay desperate because desperation isn't going to get her a husband," he said.
Advising the ladies to be careful, he said a lot of men are now lazy preferring to search for a lady who is wealthy or can make money.
"It is not surprising that most ladies, today, are dating guys that are six to 13 years younger than them. It may be ridiculous but not for those who indulge in it.
"As a personal counsellor, I know the dangers this so-called remedy poses but that is what happens when we try to find solutions to our predicaments without dealing with the original problem from the root," he said.
—Eromosele Ebhomele
Copyright protected by Digiprove © 2011 P.M.News