Prince Bisi Oyinlola, a juju musician and elder brother to the former governor of Osun State, Prince Olagunsoye Oyinlola, spoke with P.M.Entertainment about the state of juju music, Oyinlola's removal from Osun Government House, his project and other things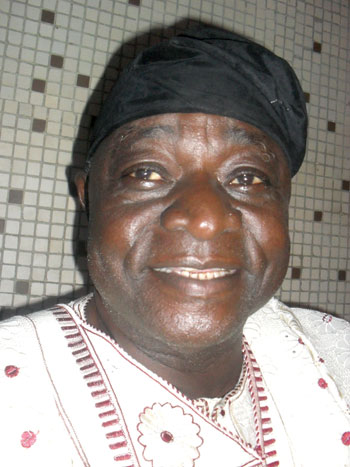 When and how did you start to play music?
I started from the primary school but when I enrolled in the secondary school, the interest further developed and after I left the secondary school, I continued playing music and later formed a band in 1974.
As somebody from a royal family, did your parents support your musical career?
Well, funny enough, my dad died when I was young, but my siblings did not like it because I am a prince. But when they discovered that the talent was in me, they had no choice than to support my musical career.
To date, how many albums have you released?
About 10.
Who taught you how to play the guitar?
I have an adopted father called Pa Oyeleke and my late brother named Bayo, who trained me on how to organise and play music.
Does music flow in your family?
Yes, we love music in our family.
Since you turned professional in 1974, how has it been?
It has been nice, at least, I have been to China, London and other parts of the world, except the United States.
How does your brother, a former military administrator of Lagos and former Osun State governor feel seeing you play at parties?
He feels good because he saw the talent in me. Anywhere he sees me performing, he will shower me with naira notes and he has been assisting me all along.
How is music, especially juju, faring in Osun State?
It has been so nice except the one-man band stuff that is more prominent in the state and other parts of the country. They can take any amount of money compared to people like us who have a large band.
What is your association doing to stop this trend?
We have been trying our best to stop the trend.
Any plan to quit music?
Never, I will play music till I die.
What have you gained from music?
I have two houses, cars and kids who are graduates. So, what else do I need than to thank God?
How did you feel when your brother was removed from the State House via a court ruling?
It was a terrible day. I was very sad on that day but what else can one do because I considered it a divine intervention. There has been rancour within the party. Soldier go, soldier come. Olagunsoye has done his best, let Aregbesola do his own too.
Did you always see your brother when he was in government?
Yes, in fact, I used to advise him and he has a listening ear. I wish him the best in his other endeavours.
Did you advise him not to go into politics when he did?
No, he was of age and old enough to decide for himself. He was a general in the army, so he knows what is good for him.
We pray that the king lives long, but as a prince of Okuku and one of the heir apparent to the throne, if you are offered the crown, will you take it?
Yes, because I have a right to it. The only thing that will happen is that I will only play music in my backyard to entertain my family and subjects and not at engagements any more.
What are you doing now?
I am in the studio working on my 11th album which will be released soon. The album is pure juju music and it is for all and sundry.
Copyright protected by Digiprove © 2011 P.M.News