Founder of the Latter Rain Assembly, Pastor Tunde Bakare says he is not a professional cleric and will never be, saying that the call of God upon his life was to serve in any capacity that will honour Him.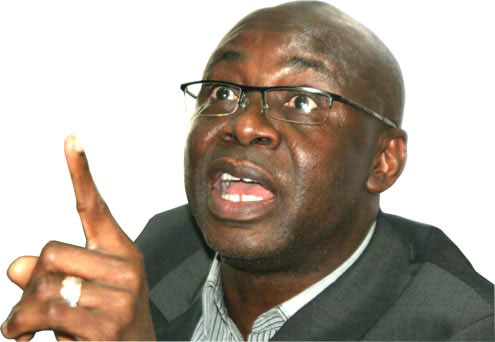 Bakare was reacting to the controversy generated by his decision to join politics and pitch tent with Major General Muhammadu Buhari, a man dubbed by many Christians as a religious extremist.
He was asked in an interview whether a man of God or cleric should go into politics and he replied: "Who is a man of God? Is the politician not supposed to be a man of God? Is he supposed to be a man of the devil? We contradict ourselves. Who should be in governmental circles of our nation than those who fear God?
"I will like to define a man of God. You said cleric, I am not a professional cleric. I have never been. I have said before today, the call of God upon my life is to serve in any capacity that will honour God and benefit the citizens of my country, Christians or Muslims or those who are yet to have an encounter with God.
"What do I mean by this? Preaching is not my occupation, it is my vocation. For a long time we have confused vocation with occupation. Remember Joseph in Egypt.  If you read his story, the day his father and his brothers came, he said now, you guys should know that shepherds are abomination to Egyptians. I am taking you before Pharaoh and the only one question he would ask you is; what is your occupation? Tell him, you are shepherds."
Bakare added that even Jesus Christ was a carpenter by profession, saying that "Can you be holier and godly than Jesus? Mark chapter six said he was the carpenter. He spent 18 years in carpentry and three and a half years in ministry. We have put the cart before the horse. We have divided the Church into the Clergy and the Laity, so that the Laity will continue to work so that the Clergy will continue to benefit from their work.
"No, Paul said these my hands have provided for my necessities. I coveted no man's gold, no man's silver, no man's apparels. What am I saying? Is it wrong for people to be in full time ministry? If their church permits it and if they can sustain it that way, so be it. I am not against that. But is it then wrong for us to act in different capacities?"
Bakare stated that his antagonists who were quoting scriptures, saying 'when the righteous are in authority the people rejoice, let us pray for righteous men to come' were the ones criticising him.
"Now the righteous men are coming, they are appearing and they are saying 'let us cut off their heads. They should not be in this, they are men of God'. No! Men of God serve in every capacity God wants them to serve. This is an opportunity to serve my country. I am not leading by opportunity, I am leading by a conscience that cares for the people," he said.
The fiery preacher also denounced insinuations that Buhari was a religious fundamentalist who wanted to Islamise Nigeria, saying that his ticket with Buhari "is the greatest thing that could happen to this country because it removes the false propaganda they have hung on Gen. Buhari for too long a time as a fundamentalist.
"I will tell you what I mean. When they say someone is an Islamist or Islamic fundamentalist, their belief is, that individual is seeking to Islamise Nigeria but Nigerians have not asked the question; how will he do it? Is he going to kill all the Christians? Is he going to kill all those who are not even Christians and are not Muslims? Is there any family in South West especially, where you do not have both Muslims and Christians co-existing? If an Islamic fundamentalist is supposed to hate Christians, and he now calls a fundamentalist Christian to come on his side to run a ticket on the same government, then we should no longer be talking of a balance of hate. It is now balance of faith. Besides that, there are so many issues in Gen. Buhari's life that people don't know. His driver for 10 years is a Christian, a practising Christian."
Speaking yesterday in his church on the same issue, he said it would be difficult for anyone to Islamise Nigeria because that person would have to close down all the churches.
—Kazeem Ugbodaga
Copyright protected by Digiprove © 2011 P.M.News