As the Peoples Democratic Party (PDP) chieftain, Bode George, leaves prison this weekend, his loyalists have concluded plan to roll out the drums to celebrate his freedom. He has spent two years behind bars for alleged fraudulent activities while he was the helmsman at the Nigerian Ports Authority.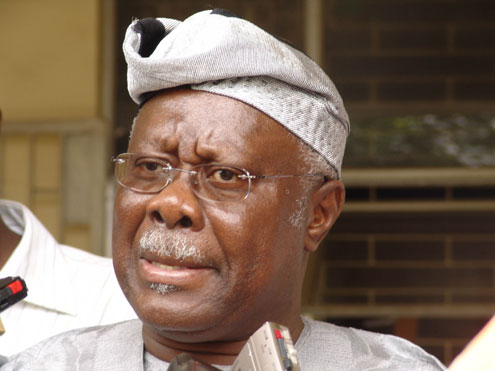 The plan was revealed to P.M.NEWS by a female loyalist of the embattled politician, popularly called Boy George, at the debate organised for the Lagos State Governor and candidate of the Action Congress of Nigeria (ACN) and Dr. Ade Dosunmu, the Peoples Democratic Party (PDP) candidate for the governorship seat in the forthcoming elections.
According to the lady who pleaded anonymity, preparations have been completed by the loyalists for a 'one-in-town' celebration when he regains freedom on Saturday, 26 February, 2011.
Meanwhile, some of the loyalists have continued to maintain that their benefactor was a victim of the injustice and manipulation by some politicians who wanted to silence him and makie him lose political value in the country.
In a full page advertorial published by one of the national dailies and signed by two of his loyalists, Pinco Barbarossa and Comrade Bari Adedeji Salau, the supporters said when George is out of prison he would be able to "walk the streets of Nigeria once again as a free citizen with his head ever held high.
"While we do not say that our friend is a saint or that he is perfect as perfection belongs to God, we however say with all humility that Olabode George was programmed into prison by a combined political computer of hate, venom and injustice."
To back their claim, they said George had often faced such challenges from political heavyweights in the past adding that as a Naval officer in the second republic, his ship was recalled from the German waters because it was perceived that some military men who favoured the late Chief Obafemi Awolowo were in the ship.
Recalling  some troubles the embattled PDP stalwart faced in the past, the group said George also faced problems when he led a group of students to fight for their rights to travel abroad for summer holidays when he was a student.
"Towards the end of 1997 an announcement was made on national television and radio that a coup attempt by some top military officers had been uncovered.
"General Oladipo Diya, Nigeria's then number two leader, was mentioned as one of the military officers involved. Olabode George who had then retired from military service was declared wanted by the then military regime," the loyalty said, adding that he had to run "like an antelope into exile," staying in London for 10 months until his eventual return to Nigeria "to join the struggle to cement democratic rule in Nigeria."
Emphasising that George was innocent and that the charges against him were trumped up, they said as head of the NPA, he introduced policies that were geared towards creating standards but that an ethnic cleansing was launched against his programme.
They said immediately he left the NPA, all those he employed to balance the federal character were retrenched.
"Olabode George soon became a political prisoner sent to prison not for any proclaimed individual enrichment but for the splitting of contracts-a charge if applied across board will send many of the rulers of Nigeria to prison.
While thanking Nigerians for standing by him throughout his travails and for visiting him in prison.
"Adekilumo has returned and he humbly bows his head to Nigeria and Nigerians…Olabode George is telling Nigerians that no matter the odds and ordeals he had faced in our recent past, his political campaigns for the continued unity of Nigeria and for the proper placement and redefinition of the federal nature of our country's existence will certainly continue."
The former deputy National Chairman of PDP alongside five others were convicted in connection with wrong doings at the Nigerian Ports Authority (NPA) for two years on 26 October, 2009.
Several attempts by the politician to secure a post-conviction bail at the Court of Appeal failed.
On 18 March 2010, the Court of Appeal in Lagos granted him and others sentenced alongside with him leave to amend their notice of appeal. The court alsogranted them permission to argue additional grounds of appeal when the appeal is heard.
The Court of Appeal in Lagos presided over by Justice Clara Ogunbiyi had on 22 April 2010 reserved two rulings in their appeal.
She announced after entertaining arguments from parties that rulings on the appellants' fresh bail applications and their applications for leave to raise additional grounds of appeal would be delivered at a later date.
Again on 7 May 2010, their bid to secure another post-conviction bail at the Court of Appeal suffered another setback as the court rejected their bail applications.
The presiding judge at the Court of Appeal, Lagos Division, Justice Ogunbiyi on Friday 21 January, 2011 finally dismissed George's appeal and five others against their conviction.
In her verdict, she held that the appeal lacked merit and dismissed it. She upheld Justice Oyewole's judgement.
Copyright protected by Digiprove © 2011 P.M.News